We may earn commissions for purchases made through links on our site. Learn more on our about us page.
There are many pieces of paintball equipment that you can purchase to make your game the safest possible, but few are as important as the paintball gloves you choose. Your hands can take quite a beating depending on the style of lay you are into and since they are vital to making sure you are able to fire and carry your marker protecting them is a key tactic to ending the game victorious.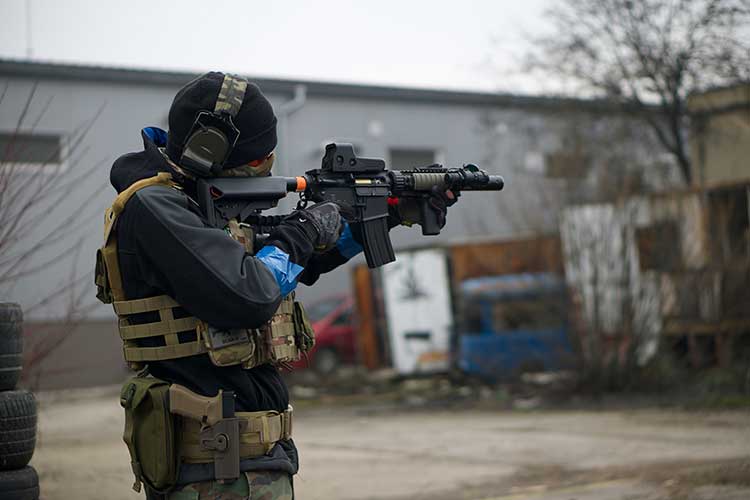 But which gives should you buy? In this guide, we will breakdown some of the best paintball gloves on the market as well as give you the tools you will need to be able to make that decision with confidence. So, let's start with those key factors you should consider when purchasing those paintball gloves.
Best Paintball Gloves Buyer's Guide
What makes a good paintball glove? Like with almost anything that is a loaded question because truthfully it boils down to your preference, but there are several factors that you may want to contemplate when researching which glove will be the best for you. After all, your hands are a key piece of your paintball equipment and you need to protect them from the onslaught of paintballs that will be hired at you as well as the wear and tear you put them through by crawling and kneeling across the Milsim field. Here are some things to consider:
Material
Do you want to Kevlar? Do you want leather? How about high-grade nylon? The material that the glove is constructed in is a major factor in its durability and ability to offer you protection. What kind of padding is worked into the material? You can either do plastic armor or padding and each of those offers its own unique benefits as well. With plastic or you are offered better protection from the high-velocity projectile that is flung across the field, but with padding, you have a better range of motion. Plus, you need to think about breathability and grip as well.
Size
So, when you see the size you usually automatically think about how it fits and yes that is an important thing to know. So, for this aspect of size make sure you read the reviews and see what other paintball enthusiasts say about the fit.
Size can also deal with how thick the padding on the back is or how much thickness there is to your grip. Making sure you understand how thick or low of a profile the glove could be a major key to ensuring that you are armed and equipped with the right kit to be the hero you have always wanted to be.
Purpose
Why are you buying these gloves? The obvious answer is for safety concerns, but it could also be because you need a better grip on your marker. Heck, it could even be because you want your whole look to be as real as possible. In truth, it could be all these purposes or just one but knowing what purpose you intend your gloves to serve is very important.
Type of Gameplay
The type of play is an important factor. Depending on which style whether it be woodsball or speedball each style of glove has specific benefits for each. For example, if you are playing a milsim game where the rate of fire is key then you may want to purchase a two-finger glove. This is designed with your trigger fingers free from fabric which allows easy and rapid finger movements. So, paying attention to your style of lay and purchasing a pair of paintball gloves that correspond to that style will not only improve your game but keep you from looking like the rookie that you are.
Breakdown of Each Paintball Glove
Paintball is not a stationary sport and once you are on the field you will be kneeling and crawling while dodging high speed paintballs that are intended to take you out…of the game that is. So, making sure that the appendages that are the most exposed namely your hand is safe should be at the forefront of your mind. So here are some of the best paintball gloves on the market today.
Best Paintball Gloves for Speedball
Highlights:
HK Army is a name that if you have been involved in paintball for any time at all will be very familiar to you. Crafting high-quality paintball accessories and kit HK Army continues to focus on quality with the HK Army Pro Gloves. These gloves come with all these great features:
Designed to be form fitting
Hand protection crafted of neoprene padding
Palm Grip made of high-performance silicon
Enhanced ventilation system
Velcro strap that is an easy release
Two fingers design for rapid fire capability
Takeaway:
The need for speed is real when you step out on the speedball field and having a glove that allows for ease of trigger use is vital. That is why these gloves are perfect for your speedball game. With the added insurance of good grip from the silicone crafted into the palm, you will have speed and grip that will show the squad that you know what you are doing. The lightweight profile of these gloves may be an issue for some as it doesn't allow for extra protection from the fabric itself just the neoprene padding. Though the lightweight design may be a problem for some players overall for the speedball player this is something that is easily overlooked in favor of the better range of motion with their trigger fingers.
Pro: Two-finger design
Pro: Silicon palm grip
Con: Lighter protection than other gloves
Best Paintball Gloves for Big Hands
Highlights:
Another two-finger design glove this entry on the list is great for those players that are a little bigger handed. The size is great for these individuals and even if you are not big handed you can still benefit from the following features:
Palm grip made of non-slip silicone
Enhance impact absorption with gel padding in key areas of the back of your hand
Kevlar utilized in exposed zones
Enhanced durability with extra layers of Clarino
Enhanced mesh ventilation system for better breathability
Takeaway:
The main reason to purchase paintball gloves is for protection and so the fact that these gloves are crafted with attention to this issue is why the Valken Impact Gloves find themselves on a list of the best paintball gloves. With the many layers of Kevlar, clarion and gel padding these gloves offer a level of protection that is rivaled by few. For the paintballers with larger hands the fit is great and with the added ventilation means less sweaty palms on the field. A key feature is the microfiber thumb which enhances your gameplay by allowing easy cleaning of your scopes. The only thing that may cause some color s that despite the two fingers design your trigger fingers will have to share a hole. There are no individual holes for each which means a little less range of motion. If you can overlook that in favor of more protection, then these gloves are a great selection for you.
Pro: Micro-fiber thumb
Pro: Good padding
Con: Non-individual holes for trigger fingers
Best Paintball Gloves with Reinforced Palms
Highlights:
Empire brings us the next pair of paintball gloves on our list and with their Contact FT Gloves, they have upped the expectations of paintball players on a global scale. Our fingers are used to feel things out and if they are covered with a bulky glove that sense can be dampened. With these gloves, you get the most sensitive touch ever. You also get all these features as well:
Full finger protection
Palms constructed with Clarino
Fingers and hand protection with armor
Kevlar reinforced palms for slide protection
High-grade Velcro closure strap
Thumbs constructed with microfiber
Enhanced ventilation for better airflow
Takeaway:
Some might say that if you go with full fingered gloves you will be useless in any rapid-fire play because if your loss of mobility. These gloves shatter that idea and leave the player with complete and enhanced protection while still having a full range of motion for the players trigger fingers. The fit is perfect, and all of this makes this one of the best paintball gloves especially if you are looking for a glove with high performance reinforced palms. Now there are a few drawbacks for this glove. Firstly, though the specs state that this glove has enhanced breathability many players simply state that is not the case and the high-grade Velcro strap is a great touch but its location tends to grab other fabrics from your clothing and that can be quite frustrating. If you are not concerned with sweaty palms or frayed clothing and more concerned with durability and protection, then consider these gloves for Empire Paintball.
Pro: Range of motion
Pro: Fit
Con: Breathability
Con: Velcro placement
Best Paintball Gloves for Good Grip
Highlights:
These super cool looking gloves have way more going for them then a good fashion sense. With the Exalt Paintball Death Grip Glove you get all these cool features and benefits:
Palm printing with high-grade silicone
Enhanced hand protection with high performance contoured rubber bone structure
Cool yet functional design that absorbs shock and allows an increased range of motion
Palm constructed of man-made leather and neoprene for increased protection
Takeaway:
You want to look cool, right? Though this is not the primary concern of most paintballers it is something that creeps into their mind as they hit the field. Even cooler is not having to recover from the impact of high-speed projectiles. So, when you can combine both concerns and answer them with one piece of equipment the investment is worth it., With the Exalt Death Grip Glove you get that and so much more. This lightweight full coverage glove is crafted in high-quality materials and with the increased grip performance will ensure you are protected and that you never let that marker slip from your hands. These gloves are so nice that the only downside that can be found is that maybe the skeletal design is not everyone's taste. Other than that, these gloves are a great addition to your paintball kit.
Pro: Lightweight full coverage
Pro: High-quality leather
Con: Design may not be ideal for every player
Best Paintball Gloves for Sweaty Hands
Highlights:
HK Army always crafts its equipment with the end user's needs in mind. The Full Finger Hardline paintball gloves certainly show that attention to detail with their quality and comfort. These gloves feature these attributes that will take your game to the next level:
Enhanced fit
Elevated hand protection with neoprene padding
Palm grip constructed with high-quality silicone
Enhance ventilation (aero mesh)
Velcro strap that is designed with a low profile for easy removal
Lightweight and durable design
Takeaway:
Though any glove can protect you from slippage from those sweaty hands it is always nice when they are high quality and enhanced performance designed for comfort and functionality. With the enhanced ventilation from the inclusion of an aero mesh being included in the design, you will feel the difference the minute you put these gloves on. You won't have to worry about those sweaty hands or the protection of them either. The lightweight and durable design is suited for any player and any style of play but is especially handy when you suffer from sweaty palm syndrome. Now there have been some complaints about weak stitching but this is a limited concern and should not be the only factor you consider.
Pro: Enhanced ventilation
Pro: Lightweight design
Con: Weak stitching
Best Paintball Full Finger Plastic Gloves
Highlights:
Valken brings us the next entry on our list of the best paintball gloves with their full finger plastic back gloves. These gloves offer a level of protection that surpasses many of its competition. The malleable armor made of plastic covers the exposed part of the hand protecting it from the pain of the high-speed paint bullets being hurled in your direction. These gloves also feature these attributes as well:
Palm pads that are scratch resistant
Padding that uses mesh panels for increased airflow
Wrist closure with high-grade Velcro strap
Takeaway:
Full finger gloves naturally afford the layer more protection than the other styles of gloves, but Valken has taken this design and elevated it to an all new level of protection. With the plastic armor and extra padding, these gloves are perfect for any style of play. Even with all that extra padding and protection, these gloves do not affect your range of motion one bit which is key when you are dealing with the most important part of that hand…the trigger fingers. Now there are some players that have complained about the thickness of the fabric around the trigger finger, but these complaints are so few and far between that it is clearly a preference complaints if you are looking for a great glove that offers super coverage and is a full finger design these gloves from Valken are definitely some of the best you can choose.
Pro: Protection
Pro: Ease of motion
Con: Trigger finger thickness
Best Paintball Half-Finger Plastic Gloves
Highlights:
Another entry from Valken the V-Tac Half Finger Plastic Back Airsoft gloves bring a different element to your game. With an enhanced range of motion and an elevated level of protection these gloves come with these features:
Exposed areas of the hand protected by high-grade plastic armor
Palms fitted with scratch resistant padding
Enhanced ventilation from breathable mesh padding
Adjustable high grad Velcro strap
Takeaway:
The most obvious thing about these gloves is the design. With the open fingers, your range of motion is increased which will elevate your game. Added to this superstar design is the enhanced level of grip and breathability from both the design as well as the mesh padding used on both backs of the hand and the palm area. Now when you opt for more mobility you also give up just a bit of protection as your hands are exposed from the knuckle. This could be a deciding factor for some. If you can overlook the protection in favor of a range of motion and the fact that these gloves run a touch small, then making these your go-to glove will change your game and may just be the piece of kit that sends you straight to victory.
Pro: Range of motion
Pro: Enhanced grip
Con: Limited hand protection
Con: Run large
Best Paintball Gloves for Woodsball
Highlights:
Woodsball can be a rough game to play and protection is even more vital when you are not only dealing with paintballs coming your way but nature as well. With the WTACTFUL Rubber Knuckle Guard Tactical Gloves you get a lot of great features:
Designed for enhanced protection with thermoplastic knuckle guards
Elevated impact absorption from the padded palm
Increased durability
Storage capability with nylon loops
Takeaway:
When you are during a great woodsball game you don't want to be suffering in pain. That is why protection is key and with many of the gloves available on the market this means giving up a little bit of comfort and fit, but not with these paintballs, gloves from WTACTFUL. These Tactical gloves give you storage capacity and protection while still being a comfortable well-fitted piece of paintball kit. Though with these added positive attributes you may have to give up a little if your range of motion. The plastic knuckle guards limit your flexibility but when you are more concerned with protection you may be able to overlook this slight drawback
Pro: Comfortable
Pro: Fit
Con: Range of motion
Best Paintball Gloves for MilSim
The last entry on our list of the best paintball gloves is a tactical glove that will be perfect for your milsim game. Though it really would benefit any style of play the design and features make it a definite go to for your milsim battlefield gear. With the Free Soldier Tactical gloves, you get all these features to help assist you in being the last hero standing:
Crafted in microfiber leather and stretch nylon for more durability and comfort
Enhanced protection with padding for the knuckle
Designed with a hole in the knuckle for extra ventilation (waterproof)
Palm area that is reinforced with two layers of man-made leather which is abrasion resistant
Palm designed with anti, skid and enhanced grip
Reinforced stitching
Velcro wrist strap that is adjustable
Takeaway:
So, the best thing about these gloves is the elevated protection for your hands while still allowing for a wide range of motion. This means that you can enter the game worry free and know that you will be able to move through the milsim game with ease while still coming out the other side relatively injury free. Now, these gloves do tend to run small so make sure you purchase one size up. Other than that, issue some players have complained about the Velcro strap not being as secure as other gloves.
Pro: Range of motion
Pro: Protection
Con: Runs small
Con: Sub-par Velcro strap
Conclusion
Having the right pair of paintball gloves could be a lifesaver or at the very minimum a way to keep from hours of painful recovery. In this article, we have broken down some of the best paintball gloves available and give you guidance on what to look for to find that perfect fit for you. Hopefully, with the knowledge laid out before you, we have helped make the decision easier and now all that is left is to gear up and get on that field.