We may earn commissions for purchases made through links on our site. Learn more on our about us page.
Finding the right paintball gun is perhaps the most important decision you will make in your paintball career. And, while money is always an option, sometimes you just was to go with the best. With advancements in technology, today's paintball guns have far surpassed those of the past, even as recent as ten years back. Furthermore, the amount of options available on paintball guns nowadays can sometimes be overwhelming. That's why we've taken the liberty of gathering together ten of the best guns available today. You'll find that most of the picks in our list allow you the option to add additional attachments, enhancing the user's overall experience.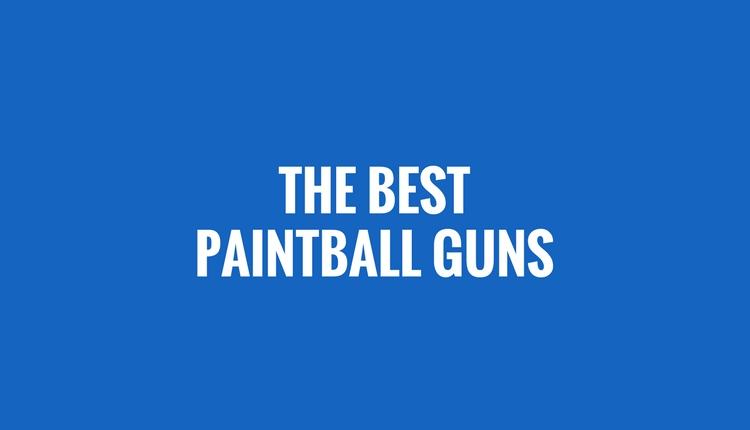 Best Paintaball Guns
Player Level: Beginner
Weight: 6 lbs
Length: 17 inches
If you are in the market for an excellent beginner gun, the Tippmann Cronus is the gun for you. The build of the gun, alone, makes it an incredible marker in that it requires minimum maintenance to operate. Unlike other higher priced guns, the Tippmann Cronus has as few moving parts as necessary yet still offers extreme accuracy and durability.
The affordability of this gun makes it available to any newcomer looking to get into the sport. Of course, it's going to be a well-made gun since it's a Tippmann. Also, the gun feeds ammo by an internal gas line hooked to an 18.5-ounce cylinder. This mechanism makes for hours of fun without the fear of running out of gas.
Weighing in at just 6 pounds, the Cronus fits for any situation. From speedball to woodsball, this gun can take a direct hit and keep firing. In fact, after many hard days back to back in the field with the Cronus, we were surprised that it remained accurate while chopping few paintballs. We were able to fire it for a whole day and only splattered three balls out of the barrel.
Thought the gun itself is 17 inches long, the barrel measures just over 9. Combine that with a velocity of 280-300 fps, and you'll get a splat diameter the size of a softball at ten meters. For close combat scenarios, this makes the Cronus a valuable addition to any armory.
Perhaps what puts this gun on out top ten list, besides that fact that it's affordable yet well made, is the fact that you can add whatever attachments you want or need for your style of play. With the multiple Picatinny rails, you can customize the gun with hundreds of accessories available to you. While it may not be the most expensive gun on the market, it is by far one of the most durable and versatile weapons available.
Player Level: Beginner – Intermediate
Weight: 4.6 lbs
Length: 13 inches
The Tippmann A-5 is the perfect gun for any paintball enthusiasts. Priced a little higher than your standard beginner guns, the A-5 will make anyone fall in love with the sport.
Right our of the box, the gun is ready to fire. All you simply need to do is hook up you gas canister, which can be c02, compressed air, or even nitrogen, and you're golden. By the gun allowing you to use a variety of gas types, the user can practice cheaply but perform exceptionally well in the field with the more expensive nitrous.
What put this gun on our top list would be the rate of balls per second that is possible. Featuring a response trigger and a Cyclone ball feeder, the A-5 is capable of shooting 15 rounds per second. What this means is that you can fire the gun as fast as you can pull the trigger. Oh, and did we mention that the cyclone feeder requires no battery? Instead, it operated inline with the gas feed to throw the paintballs in without fail.
The design of the A-5 allows its use in any scenario or style of play. Weighing in at only 4.6 pounds with a 13-inch length (8.5-inch barrel), this paintball gun is perfect for close combat fighting, such as woodsball, as well as speedball play. Also, if you are looking to take up a sniper post and wish for your paint to fly further, the A-5's barrel can be upgraded, allowing you to shoot that long shot.
What we liked most about the Tippmann A-5, however, is its durability in the field and the ability to field strip the gun easily. When you're in the heat of battle, that last thing you want to do is have a gun malfunction and, when you do, you don't want to take the entire round to fix it. The build of the A-5 ensures that breakdowns in the field will be close to zero. However, should you find yourself in that unfortunate experience, the A-5 can be field stripped in less than 60 seconds, allowing you to fix the problem and get back to the game.
Player Level: Advanced
Weight: 2.8 lbs
Length: 12 inches
If you're looking to take your paintball game to the next level, the Dye Proto is the gun for you. Not only does this gun look like a million bucks, but it also performs like it as well. With the option to efficiently select between semi and full auto, the Rail is capable of firing 34 balls per second without blinking. Combined that with the ergonomic design and you'll be able to shoot this gun all day long without an issue.
Right out of the box, you can take this gun into any competition and be able to compete at any level. With the high-grade aluminum body, bolt, and trigger, the Rail will stand up to any abuse you can throw at it. Whether your playing in the middle of a rainstorm or on a sunny day, you won't have to worry about your gun malfunctioning.
However, if it does, maintenance and field repairs are a breeze with the Rail. Perhaps what helped bump it onto our list is the fact that, not only does it come with a complete parts kit in the box but the O-rings are color coded, allowing to detect and replace a troubled O-ring quickly.
Another reason for this gun being on our list is its incorporation of both gas and electric features. With the Rail, the firing system uses a gas-powered system. However, there are electrical components as well, such as the option for an electric feed system. Also, one of the features we found to be extra appealing was the LED light indicator system. Without taking your eyes away from your sights, you can tell the status of your gun, knowing if you need to refill your tank or hopper easily.
While the Rail is a highly affordable gun, it can be used against tournament quality guns and never miss a beat. Not to mention it can be fully customizable to the shooter, making it a perfect fit for any level of player.
Player Level: Beginner – Intermediate
Weight: 7 lbs
Length: 12 inches
If there ever were a gun specifically designed for military simulation play, the Salvo by Tippmann would be it. Designed to look like the ar-15, the Salvo comes with an aluminum body and an 11-inch barrel making it one of the most accurate guns on our list right out of the box. Add to it the affordability, and you've got a perfect paintball gun for any level of shooter.
Weighing in at 7 pounds, the Salvo is on the heavy side of things. However, when you add a shoulder strap, the weight no longer is an issue. In fact, it feels like an AR-15. However, looks are the best part.
The Salvo can outperform guns priced triple what this cost and more and is just as durable as tournament-level guns. In fact, testing put this gun into conditions where traditional markers would fail but, when picked back up the Salvo fired as good as it did before.
Perhaps the feature that allowed the Salvo to make it on our list, besides its functionality in woodsball play, was the folding stock. It allows the shooter to adjust the weapon to fit the different scenarios, from close-combat to long range sniper.
Though the standard Salvo package doesn't come with a Cyclone feeder system, one is easily installed, boosting the Balls per second rate, even though it only has a semi-auto function. Besides, with four Picatinny rails, the upgrade possibilities are endless.
Repairs in the field, though there are few, are effortless with the Salvo. Tippman, keeping with the look of an ar-15, designed a fake clip. What makes this clip so useful if the fact that it houses all of the necessary tools to do repairs on the gun, freeing up space in your pack and making the readily available.
Player Level: Advanced
Weight: 3.5 lbs
Length: 10.6 inches
For a well-rounded paintball gun with minimal, yet exceptional features, the Empire Axe is the marker for you. Weighing in at under 4 pounds, the Axe makes up for its light weight in accuracy and durability, not to mention it's just about as quiet as you can get in a paintball gun.
This marker is one of our top ten guns because it has easy maintenance. Unlike most other paintball guns, no tools are required to remove the bolt from the Axe. Instead, it has a push-button release that allows you to efficiently slide the bolt out, allowing you easy access for cleaning and maintenance.
The rate of fire is excellent with the Axe, especially when you add on a force-fed hopper. Empire has developed a Slipstream solenoid, and a magnet returned bearing trigger that allows the shooter smooth and fast firing. It is also quick to change out the gas cylinder with the ASA control lever and regulator.
Though it can shoot over 300 fps, we found that putting it at about 280 fps (the tools to do so come with the gun) you can get pinpoint accuracy without chopping paintballs. In fact, we were able to put more than fifty-thousand rounds through the Axe without a single broken ball. That means you can play hundreds of rounds and trust you won't be wasting your paint.
One should note that the Axe is one of the most versatile paintball guns available. Though it doesn't allow you to add many extra attachments, it is still an excellent gun for all scenarios, as well as woodsball and speedball play. With guns like the Axe on the market, there's no need to pay thousands of dollars for a paintball gun when you can get a tournament-quality gun for a fraction of the cost.
Player Level: Advanced
Weight: 4.6 lbs
Length: 11 inches
The M2 is by far the most expensive gun on our list, but if you are looking to invest in a forever gun, this is the one for you. There's no doubt about it; the M2 isn't a beginner's gun. It features just about every feature you could ever hope to have on a paintball marker directly out of the box.
What made us want to put the M2 on our list would be the electronics onboard the gun. With its 1-inch full-color high-resolution OLED screen you have immediate access to every control and setting on your gun. Whether you're in the middle of a fire-fight and want to check how much gas you have left or want to switch from semi to full auto, the 5-way joystick allows the user to manipulate the display effortlessly.
Along with the heads up display, the electronic system on the M2 offers a rechargeable battery, wireless charging capabilities, and an advanced tech mat. This system allows you to download updated software or custom boot screens as well as charge your battery in the blink of an eye.
Weighing in at 4.3 pounds, the M2 fills perfectly balanced in your hands.  Measuring approximately 11 inches total, the M2 is excellent for any style of play you may try. Also, the standard M2 comes with two Ultralite Boomstick barrel backs, the .684 and .688. This feature allows you to quickly adjust your marker for different size paint as well as shooting conditions.
Sticking with the customizability, the M2 offers several shooting styles, including semi-auto, ramped, capped, and full, just to name a few. There's no particular combination of trigger pulls required to switch between shooting styles; just select which one you want on the display, and you are ready for battle.
Aside from all of the technology added to such a lightweight frame, the M2 looks stunning. Available in over 15 color options, your competitors will tremble in their boots just by looking at the M2. Add to it the unique sound signature as the paint leaves the barrel and you've got a beast of a marker.
Player Level: Intermediate
Weight: 3 lbs
Length: 9.8 inches
There's a fine line between an entry level marker and an advanced tournament gun; the Rize Maxxed is that line. Though it has many functions of a tournament level gun, the price and user-friendliness are second to none. Right out of the box, any shooter will be able to hold their own on the field.
The Maxxed has an electronically controlled trigger system that is the main reason it made our list. Powered by a simple 9v battery, the trigger allows the shooter to change between four different shooting options, from semi all the way to full auto. Changing options is all done by a simple manipulation of the trigger itself.
Not only does the gun look magnificent, but it is also perhaps the best gun in its price range. With it's vast array of metallic color options, your opponents will take you for the pro you are, thinking you spent thousands of dollars on your gun. Don't worry; there's no need to tell them the truth.
When you first pick up the gun, you are going to be astonished by how light weight it is.  If you are more familiar with heavier markers, you will soon find out that the gun isn't a lightweight at all.  Therefore, the weight will take some getting use to.  It can hold it's on with its durability, accuracy, and versatility. In fact, many we have spoken with have told us how much they hate going against players with the Maxxed simply because of how accurate the gun it.
Another awesome addition that Dye has added, though it's not on the weapon itself, is the full-color user's guide. Unlike most user manuals where you have to guess what it's trying to point out, the detailed pictures in this handbook allow even the most novice of users to quickly take apart the gun for cleaning and maintenance, as well as how to use it for first timers.
Player Level: Intermediate – Advanced
Weight: 5 lbs
Length: 12.1 inches
While this could be one of the more expensive guns on our list, it could be the best gun you will ever own. Believe me, though, when I tell you that you are getting a great buy with this marker. While most guns may require you to purchase add-ons or exchange parts to make it what you want, the ETEK5 requires no such purchases.
One word that kept coming to our minds, and perhaps what has caused it to be such a great gun, is sturdy. Most guns in this price range seem to have a little give in the grips especially, as well as other places throughout the marker. The ETEK5, however, has no such give. The construction alone of this gun will allow you to have countless hours of fun with no issues whatsoever.
One feature that has haunted guns in this price range is their high usage of gas. With the ETEK5, that will never be a problem. In fact, this gun hates to use gas, allowing you to shoot more balls down range and gain more kills in a round.
Power and consistency are more words we could use to describe the ETEK5. As hundreds of rounds fire through it, we realized it never lost its accuracy or power like most guns will. As far as maintenance, this gun requires very little. Running clean and quiet, your enemy won't know what hit them.
What Planet Eclipse has done to take this marker to the next level is to incorporate its Zick3 technology. What this technology does is enables the gun to have a gentle yet firm acceleration of the bolt on the first pull. Then, as the bolt resets and prepares to fire for the second time, the acceleration is increased, causing more pore to throw the bolt into the ball and then remains high. This feature makes the Etek5 have less recoil while being easy on the paintballs, causing very few, if any, breaks.
Player Level: Advanced
Weight: 2 lbs
Length: 21 inches
As the younger sibling of the ETEK5, it was only proper to allow the Etha to be on our list, especially seeing as though they have many of the same features. Perhaps the difference that caused us to want to add the Etha is the fact that it is priced lower than the Etha. Now be it, it doesn't have all of the features but, for the price, its an excellent choice for any novice or pro shooter.
The accuracy with the Etha is unbelievable. Measuring in as 21 inches long, the barrel, alone, is 14.5 inches. This length makes it the longest gun on our list by far. With the added length, the Etha has enough power to through paintballs accurately down range.
One would think that the extra length of the Etha would make it heavier than it's counterpart, the ETEK5. However, surprisingly, the Etha weighs in at only 2 pounds. Don't let the weight fool you; though it's light in weight, it isn't a lightweight when it comes to performance in the field.
Besides the materials used to manufacture the marker, what makes the Etha so light is the fact that it's an electronically-powered gun. Often, electric guns gain a bad reputation.; that is not so with the Etha. Though you will want to take some time to read the manual carefully and familiarize yourself with the different components (Especially if you've never fired an electronic gun before), it's very easy to master. It won't be long before you are out on the field lying down the competition.
The Etha, like it's pricier counterpart, has four shooting modes ranging from semi to full auto. Perhaps, though, what makes the Etha standout is the ease at which you can switch the modes. When you are out in combat, you never know when switching from semi to full auto may necessary. With the Etha, that change happens in the blink of an eye.
Player Level: Beginner
Weight: 5 lbs
Length: 13 inches
Boasting its level of durability while being a bare-bones gun, the Tippmann A-5 .68 Caliber is everything a beginner paintballer will ever need. While it is on the heavy side, weighing in at 5 pounds, the A5 will stick with you in even the toughest of fights.
When we say bare-bones, we mean that you are getting a basic gun with no bells and whistles, but that's why we wanted to put it on out list. For a beginner just getting into the sport, having a gun with more electronics than your car may be overwhelming. With the A5, all you have to know it that when you pull the trigger, it's going to shoot a paintball every time.
There's only one setting for the A-5, and that is semi auto. However, with the cyclone feeder system, it will launch a paintball as fast as you can pull the trigger. With the right person, this could be as many as 15 balls per second. While that doesn't seem like a lot when compared to more expensive guns, for a beginner, that's perfect.
Unlike some guns in this price range, the A-5 also boasts of having an excellent air delivery system. Instead of the cartridge screwing directly into the gun, the A5 has a gas line going from the cylinder to the chamber. Not only does these allow for a more controllable gun (since the cylinder can then rest against your shoulder) it also creates more power behind the ball.
Another feature that makes the A5 perfect for beginners is how easy maintenance is. By following the steps in the manual, the A5 can be completely broken down in less than 60 seconds. Not only does this equal less time spent on maintenance but also allows for quicker repair time should something happen while in combat. Add that to its durability, even in rain and mud, and you've got a gun that will stick by you for many years to come.
Conclusion
When it guns to choosing a gun, take your time and research. If possible, use a friends gun or rent one that like from your local field and take it for a spin. Making a purchase like this is a significant investment, and you want to ensure you get a gun that's going to fit your style and meet your needs.