We may earn commissions for purchases made through links on our site. Learn more on our about us page.
Best Mag-Fed Paintball Pistol
Best Paintball Pistol for Self Defense
Best Realistic Paintball Pistol
Finding the best paintball pistol can be a little daunting.
There is lots of information out there.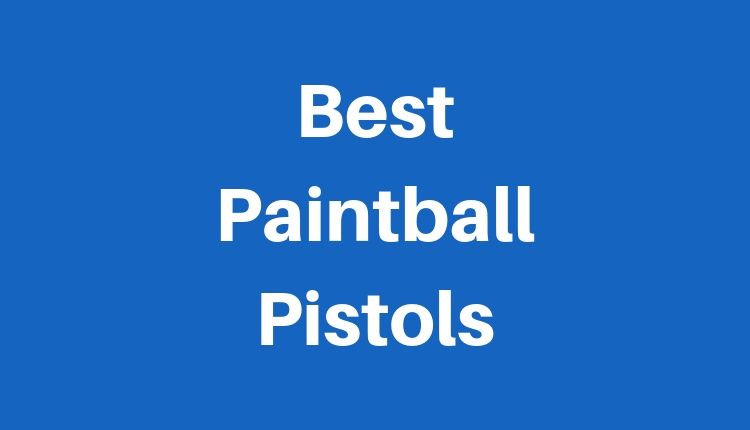 And we hope to put you at ease & help you find the right one.
Yeah sure one gun is fine, but what happens if it breaks, jams or is not ideal in close quarter scenarios?
That's why any seasoned MilSim players never hit the field without a second gun.
Maybe it's time to entertain the idea of carrying a pistol.
Or two with you while you are stealthily combing the battlefield on the hunt for your own heroic victory.
You don't want to end up on the sidelines because you have depleted your paintball supply, do you?
But I don't know which one to buy!
That's okay.
People in your exact situation are why we wrote this guide!
But before we get to breaking down some of the best paintball pistols on the market, we need to talk about a few things.
Let's talk about what you should be considering when purchasing your new piece.
What You Must Consider When Looking for the Best Paintball Pistol
Let's face it.
There's a lot of information on the Internet.
Now you're trying to maximize all the hard-earned information you crammed into your brain.
When making your decision on which marker to bring to the game, it is going to be a difficult choice.
A lot of the information out there is non-transferable when looking at which pistol you should buy.
This lack of useful information is especially the case when it comes to the paintball world.
Hopefully, this guide will take some of the stress out of the situation by giving you some great options for whatever need you to have.
However, before we jump into talking about the best paintball pistols out there, let's look at some of the things that you should be looking at when deciding which one is the perfect fit for your in-game style.
I know you just want to get out there on the field, but making the right choice is key to your victory on the field.
Weight
Though the pistol will most definitely be lighter than your standard marker, the weight is still something to consider.
Your kit and its overall heft could be the defining piece in your overall plan to win it all.
When on the field the lighter your load, the stealthier you can maneuver.
With that stealth ability, you can be just like your favorite character in your video game of choice.
You are creeping around corners and get the jump take out the enemy squad.
Plus, on the field, you will be running and gunning for long periods which means for stamina purposes the lighter your sidearm, the better.
Size
Just like weight, size plays a part in your overall gameplay.
It affects both your covert ability and endurance.
The bigger the gun, the more weight it will add to your kit, but more important than that is the overall comfort of the carry.
Finding the pistol that fits your hand and still feels good to shoot will increase your efficiency and accuracy to the next level.
Another piece of size is the barrel length, which also impacts those very same game attributes.
So, when considering which pistol you should buy make sure t handle it and feel it out.
Caliber
The standard caliber for paintballs is .68, but there are other choices out there.
Choosing the right caliber for your marker as well as the style of paintball you are playing.
For instance, if you are using this pistol as a second gun in your woodsball game, then maybe you should consider the cheaper and more effective in this scenario .50 caliber.
By choosing this, your pistol will be able to shoot through brush and the ammo itself will save you a little money.
So, as you can see, the caliber of the pistol is vital to your decision.
Purpose
The intention is everything in most decisions in your life.
So why wouldn't it be a consideration when deciding which sidearm you will be taking with you into the field.
The purpose may be the most important of all these things to think about before you buy.
Are you buying it for home defense?
What style of MilSim player are you?
Do you play woodsball or scenario or speedball?
When diving into all the information to figure out the answer, which one should I buy?
Your intent should be at the forefront of your mind.
Why?
Because each pistol will bring benefits that amplify certain situations more than another.
Level of Experience
You have resolved to add a pistol to your MilSim arsenal.
Now you should think about your comfort and experience level with using a handgun.
If you have little to no experience, you may not be able to utilize your sidearm to the fullest of its ability.
Besides, if you are not a die-hard player and only hit the field every now and then, you would not want to spend a whole lot of money on a new pistol.
Experience is a critical factor of your decision of which pistol to buy for those reasons.
Paintball Pistol Frequently Asked Questions
How does a paintball pistol work?
Each model has it owns specifications, but overall, they work like the standard guns.
After loading an air source, either Co2 or compressed, you charge your gun.
Once you charge your marker, you are ready to fire.
Pulling the trigger releases a burst of whatever source you use and ejects the projectile out the barrel.
Are paintball pistols any good?
The pros are better maneuverability due to the compact design and shorter barrels.
They afford you an option if your main marker breaks, jams or you are unable to reload it.
But they also have a decreased accuracy at distances and a limited round capacity, which means reloading more often.
How much does a paintball pistol cost?
The answer to this depends on the model and features.
Depending on what you are looking for the price point can be as low as $60 up to $350 without upgrades.
The best way to weed through the price differential and not regret spending your money is to consider the points mentioned above.
How to load a paintball pistol?
The answer to this is also a model-dependent answer.
But for most of the pistols, you will insert your Co2/compressed air tank into the pistol handle.
Then after loading your paintballs into the mag, you will then insert it alongside the canister in the handle.
Are paintball pistols worth it?
The worth of the paintball pistol comes down to what you are willing to spend and the purpose behind the purchase.
Are you looking for a second gun to keep your game flowing on the field?
Or need to up your close quarter, stealth scenarios?
A pistol is what you need.
Best Paintball Pistols in 2023
Now you know what you should look for when looking at what pistol to purchase and some of the FAQ's that were probably bouncing around your brain.
So, armed with all that info, let's dive into some breakdowns of the best paintball pistols on the market.
Tippmann TiPX
Best Mag-Fed Paintball Pistol
Highlights
Fresh out of the box the Tippmann TiPX is ready for combat.
It's sleek, military-style design means a lighter weight pistol with a realistic and ergonomic feel in your hand.
And all the benefits you would expect from a Tippmann paintball gun.
Down to its metal trigger, the TiPX's design screams buy me.
The two-trigger pull ensures that your pistol charges and is ready after the first pull.
And with the blow-forward mechanism, you are sure to have a smoother shooting experience.
The TiPX also comes with two magazines that are spring loaded.
The patented Tru-feed design helps to increase your fire rate.
It also lessens the tension on paintballs preventing breakage in the gun.
The TipX finds itself king of the mountain when it comes to mag-fed paintball pistols because of the magazine system.
Because of the low tension and quick release mechanism it gives its user an 8 BPS (bullets per second) feed rate
Takeaway
The TiPX has reached the top of the list by being a reliable and high functioning mag fed pistol.
With the Tippmann name backing, it was a sure-fire contender.
The pistol delivers a realistic military look and feels along with efficiency and accuracy like no other in this field.
Pros
Little to no recoil due to the blow-forward mechanism.
High precision and dependability.
Cons
Has a small round capacity.
Not very budget friendly.
First Strike Compact Pistol
Best Paintball Pistol for Self Defense
Highlights
People think of paintballs as a hobby, but they can also be useful at home and self-defense.
The First Strike Compact pistol finds itself on the top of this category for me simple reason.
You can use it with multiple types of paintballs.
The everyday paintball that MilSim soldiers use on the field is not safe to use for self-defense.
But switch those out for pepper balls or even glass breakers round, and now you are ready.
Being able to have a long distance from the attacker than the pepper spray most women carry in their purse makes this highly effective.
If specialized rounds aren't what you want to shell out for then try a smaller caliber round made of rubber and metal.
Any of these options is why the First Strike Compact pistol makes the number one choice for a self-defense gun.
Takeaway
If you are looking for a non-lethal way to defend your home, the First Strike Compact pistol with its diversity is an excellent fit for your needs.
The lightweight, compact design also gives it the desired ease of use when protecting the ones, you love from intruders.
Pros
Compatibility with multiple ammo sources
Lightweight and easy to handle
Cons
Not very many user reviews
Not for the budget minded
T4E Umarex .43cal Walther PPQ
Best Realistic Paintball Pistol
Highlights
The best realistic paintball pistol trophy goes to the Umarex Walther PPQ.
The realistic functionality and design of this piece are outstanding.
It comes with many features that simulate the real gun like a locking slide that engages when you have fired the last round.
Or how about the .43 caliber opening on the barrel.
The design team over at Umarex took their cues from the inspiration.
They tried to give the user everything they would get with the real gun sans the bullets.
Even with that attention to detail, the weight of the gun is subtle and not cumbersome at all to the user of this piece.
The designer is opting to use metal only where it was necessary to ensure that they were not adding unnecessary heft to the gun.
The piece still uses standard air sources like Co2 or compressed air and so despite the feel and look it is very much still a paintball gun.
Takeaway
The attention to detail in the design and functionality is a step above the rest of the pack.
The T4E has an excellent level of realism and is still a highly functioning and durable paintball pistol.
For all these reasons the T4E Umarex .43cal Walther PPQ is the best functioning realist paintball pistol out there.
Pros
Multiple ammo choices giving you extended use options
Operates as close to its real-life counterpart as possible
Cons
Not that many upgrades available
Slightly overpowered for a pistol
JT ER2 Pump Pistol
Best Paintball Pistol for Small Budgets
The JT ER2 uses the traditional Co2 cartridges.
It also utilizes the standard.68 caliber paintballs.
These features make the JT ER2 a great paintball pistol for those looking to be budget conscious when purchasing their new marker.
This pump action paintball pistol comes with safety features like the barrel plug, a ball stops system and an anti-double pump feature.
There's one more thing to add on top of being an economical choice for your weekend paintball excursions.
The JT ER2 brings to its pump action an anti-chop technology to ensure a smooth shooting experience with less paint breakage.
This paintball pistol also comes in a kit as well, so you can make that cash extend even further.
When purchasing this paintball pistol in the kit, it will include not only the marker.
You also get three paintball tubes with a 10-round capacity, the paintballs to fill the tubes, a barrel plug, the manual, and Co2 cartridges.
Takeaway:
With the low price point and the features, the JT ER2 pump pistol is a great way to get a started.
It offers a shooting game as precise as a lot of its peers.
And it has so many features centered around safety precautions that you will never worry when hitting that battlefield.
The price and these features are why it is the best paintball pistol for the paintballer working with a tiny budget.
Pros
Budget-friendly paintball pistol with enhanced accuracy
Ready to hit the field straight from the package
Cons
Unable to modify paintball velocity
Not as cool of a look as others on the market
Final Verdict
So which pistols should you buy?
What the best choice for what you want it for?
And which one will not lead to me second guessing myself once the pistol is in your hand?
The paintball pistols we have looked at in this guide are just some of the options available to you.
However, hopefully, we have helped you just a little bit.
We have broken down only the best in the field.
You know what you should be looking for and considering when purchasing a paintball pistol.
Now, it's time to get the best paintball pistol for your situation.