We may earn commissions for purchases made through links on our site. Learn more on our about us page.
When researching which paintball gun you want, there are several factors to take into consideration besides price. Some of these may be the material used, the firing system, and the overall adaptability of the gun. And, for beginners especially, you want your gun to be easy to use.
We've taken the time to research and find ten guns that, while they are considered cheap regarding pricing, are of excellent quality and can meet even the most advanced player's needs when it comes to paintball. We've proven that you don't need to pay hundreds or thousands of dollars to find an excellent gun.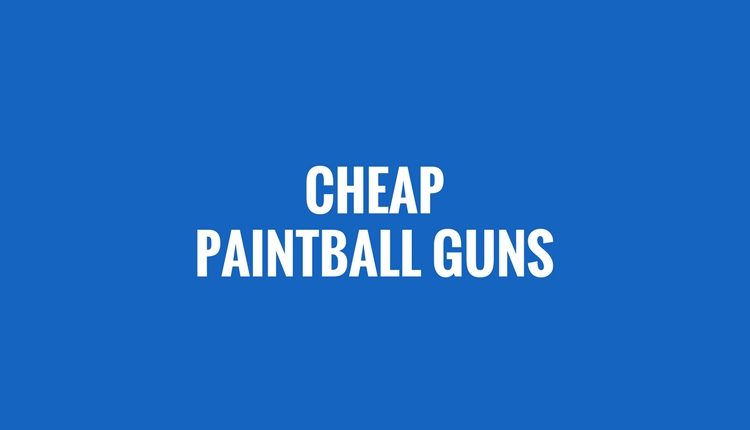 Cheap Paintball Guns
Player Level: Beginner
Weight: 2 lbs.
Length: 17 in.
If you're in the market for a low-cost gun but don't want to lose any effectiveness on the field, the Kingman Spyder Victor is the perfect match. Though it doesn't have the customizability features that you'll find on most higher priced guns, the Spyder Victor shoots just as well. Whether you're into woodsball, speedball, or just backyard skirmishes, the Spyder Victor will be the perfect addition.
Causing the Spyder to make it on our list is an innovation its designer, Kingsman, added to make cleaning and in-field maintenance a breeze. The stigma surrounding inexpensive paintball guns is the fact that they can be difficult to clean, especially when the shooter uses a low-grade of paint. Kingsman, however, uses a tool-free striker plug design that allows the shooter to clean and perform basic maintenance without having to dig in their pack for the tool.
The low-profile of the Spyder makes it simple to shoot for any level of shooter. Also, since this model is light and shorter than other versions, the Spyder Victor is perfect for younger players looking for a great gun.
Another stereotype for guns in this price range is that they use a ton of cO2. With the Spyder, Kingsman has added a patent-pending Eko Valve system that allows the user to fire up to 1500 rounds from a 20oz CO2 tank. A feature like this means more shots fired down range without having to take the time to reload your CO2.
Though you can't add any extra optics or accessories, the Spyder Victor is truly the ultimate beginners gun. Designed with the shooter in mind, you can get hours upon hours of play with the Spyder and never notice you're shooting a low-priced paintball gun. Your enemies won't realize, either, as your marker hits as hard as their more expensive ones.
Player Level: Beginner
Weight: 2 lbs.
Length: 18 in.
Ideal for beginners or those less experienced in the sport, the D3FY Sports Conqu3st is one of the better guns on our list. Designed for ease of use and simple maintenance, this all aluminum gun will defy all of your expectations.
The Conqu3st is compatible with both CO2 and compressed air, allowing for low-cost firing. Depending on the weight, and material, of your paintballs, you can expect to get anywhere between 700 to 1190 shots on a 20-ounce tank. Additional, with the standard 1/8 inch fittings, you can add aftermarket components to increase velocity and CO2 usage.
The reason we wanted to ensure the Conqu3st was on our list is that the accuracy of this gun during testing. With a length of 18 inches, this gun was incredibly accurate at 75 feet. We found that to be on the high end among other cheap paintball guns. Adding a longer barrel will only increase this distance, allowing you to remain further away from your opponents and stay on-target.
Another reason we wanted to make sure the Conqu3st received its spot on our list is that the dependability of the weapon. During field testing, when other cheaper guns were busting the paint or just simply spitting the balls out of the marker with little to no power, the Conqu3st remained consistently astonishing. There was no broken paint or misfires, and the gun remained clean and dependable.
The Conqu3st is another perfect weapon for those looking to get into the sport. With a minimalistic approach to the design and features, D3fy has allowed the Conqu3st to shine amongst other guns in this price range by building a gun the shooter can depend on in various scenarios. Whether you're just playing in the backyard or looking to get into woodsball or speedball play, the Conqu3st won't disappoint.
Player Level: Beginner-Intermediate
Weight: 3.7 lbs.
Length: 17in.
If your desire is to have a paintball gun you can customize and make to look like the expensive models; the Tippman Cronus Tactical edition is perfect for you. It allows for a fully customizable setup at only a fraction of the cost of high-end guns. Plus, being developed by Tippman makes it one of the best on our list.
As stated above, the Cronus is fully customizable. With four Picatinny rails, the shooter can add any optics, flashlights, or other accessories they may need or want. Additionally, the Cronus comes with a foregrip, allowing the shooter more control for increased accuracy. The stock on the Cronus is adjustable with six different positions, meaning it can be changed to fit any shooter or shooting style.
The gas line on the Cronus is internal, separating it from other guns in this price range. Also, it is made of a high-impact material, allowing for enhanced durability. You won't have to fear your weapon breaking should you accidentally drop it during play or it takes a direct hit.
With the in-line bolt system that has become the hallmark of the Tippmann brand, you will find you rarely have any issues with broken paint or lob shots. Instead, the Cronus is extremely durable and consistent with firing accurately. Also, the bolt system allows for easy cleaning, as well as maintenance in the field shoot any problem occur.
Though the Cronus Tactical edition has many of the "bells and whistles" you would never expect to find on a paintball gun at this price, it is still extremely light to carry. Weighing in at 3.7 pounds, you won't grow fatigued, even after hours of play. This light weight makes the gun excellent for younger players as well, not requiring much strength to hold or fire accurately.
Player Level: Beginner-Intermediate
Weight: 3.7 lbs.
Length: 17 in.
The basic version of the Tippmann Cronus paintball marker is a must have for any beginner wanting a gun they can depend on without paying a high price. Though it has the same internal workings of the Cronus Tactical edition, this basic version differs slightly, offering a less is more kind of perspective.
The Cronus Basic edition is still customizable with the four Picatinny rails allowing the shooter to add any accessorize they need. However, that's where the look similarities end. The basic edition features a two-tone color scheme, causing it to stand out amongst a field of competitors. Additionally, without the stock, the Cronus Basic is perfect for close-combat woodsball style of play.
Even without the addition of aftermarket optics, the Cronus is extremely accurate, considering the barrel length is only 9.7 inches. The iron sights attached to the front and back of the gun allow for easy aiming. Also, the attached vertical grip gives the shooter a more controlled grip on the gun, increasing accuracy and maneuverability.
What we found when testing the Cronus Basic is that is rarely chipped or broke the paintballs. Even when we turned the velocity to its highest setting, we only saw about 1 out of every 100 balls broke. That kind of durability is almost unheard of among cheap paintball guns.
Most cheaper paintball guns almost make you feel like you're holding a toy. The Cronus is the exact opposite. The aluminum body, weighing in at only 3.7 pounds, is lightweight but makes you feel like you are holding a high-priced gun. No to mention the ease of mind you have when taking this gun into play.
With its streamlined design and excellent durability, this gun is perfect for any level of shooter. The Cronus makes a perfect addition to any arsenal and can be trusted to last for years to come.
Player Level: Beginner
Weight: 2 lbs.
Length: 20 in.
It's graphics alone make the Tippmann Gryphon an incredibly intimidating paintball gun. It's ergonomic design, and powerful shooting capabilities will have you looking like a pro in no time. Perfect for the beginner looking to have a little more power in a cheap paintball gun, the Tippmann Gryphon is bound to be a shooter's favorite.
The Gryphon can operate with both CO2 and compressed air, firing with up to 800 psi behind the shot. This feature allows the Gryphon to shoot consistently at 200 feet per second. It allows the gun to be extremely accurate at 30 feet, causing a softball sized splatter, depending on the quality of the paint used.
What we liked about the Gryphon, and why we wanted to add it on our list, is because of the dependability at which it performed. After hundreds of rounds fired through, using various levels of paint, the Gryphon rarely had any broken paint. In fact, it was when we turned the velocity up and used cheap paint that we had any problems at all.
The Gryphon is all different than most cheaper paintball guns in the placement of the paintball feed system. While most paintball guns in this price range have the paintball feed into the rear portion of the marker, the Gryphon feeds into the center of the gun. This feature allows for increased mobility, whether you're moving left or right.
Another thing we found while running it through its paces is that the Gryphon is a silent shooting gun. In fact, except a small thud when the ball comes out, you can hardly hear it. A feature like this makes it a perfect weapon for stealth operations and close-quarter combat.
With its ease of use and simple maintenance, the Gryphon would be an excellent beginner's gun, as well as an added weapon to a professional's arsenal. Made by one of the best in the industry, the Gryphon is sure to out-perform your expectations.
Player Level: Beginner-Advance
Weight: 3.3 lbs.
Length: 26 in.
If you want to immerse yourself into the military-simulation aspect of paintball, the Spyder MR100 Pro series by Kingsman is the gun for you. Featuring the aesthetics of a tactical rifle, the MR100 allows the user to conduct military-like operations with ease and presence. Not only does it look the part, being fashioned from the M14 gives it the durability and effectiveness any shooter needs
The balance and weight disbursement of the MR100 are impeccable. The center feed system allows for less chance of broken paint as well as increased dependability in the loading of the round. When you first pick up this gun, you would never know it was on the affordable list. Additionally, though it weighs in at 3.3 pounds, the gun is easy and comfortable to shoot.
The adjustable stock on the MR100 allows the gun to fit the shooter instead of the shooter contorting their body to fit the market. You can quickly switch from a rifle style shooting method to a tighter stance for maneuverability by just collapsing the stock.
The ease of maintenance, however, is why we wanted to include this gun on our list. Unlike other cheap guns where you have to remove every screw to be able to clean the frame thoroughly, the MR100 has one screw to loosen, and the rest simply pulls out. This simplicity makes cleaning and field stripping, a breeze.
You'll also find that you use minimal CO2 when shooting the MR100. With the Eko valve system by Kingsman, you can get upwards of 1600 rounds out of one 20-ounce tank. Furthermore, the feed system can load the paint as quick as you can pull the trigger. Out of thousands of rounds, we may have had three dry fires. This efficiency makes the MR100 the perfect gun for anybody wanting an affordable paintball gun.
Player Level: Beginner
Weight: 5.5 lbs.
Length: 20 in.
With its lightweight construction and impact-resistant coating, the Empire BT-4 is everything you would expect to get from a high-dollar gun in the form of a cheap paintball gun. Designed with beginner shooters in mind, Empire developed the BT-4 to be durable and dependable yet easy to use.
However, this is so much more than your regular beginner gun. Take, for example, the tournament legal external velocity adjuster. Easy to control, this velocity adjuster enables the shooter to make quick adjustments while in play to correct for wind conditions, play style, and range of the shot.
Additionally, the BT-4 has a dual Picatinny rail system, allowing for easy customization. The options are limitless to the amount of gear you can purchase to enhance this gun to fit your style and needs. Also, it comes with an adjustable foregrip, allowing you to change its position on the gun or remove it entirely, depending on your style.
The Bt-4 is one of the easiest to clean on our list. Should you need to perform any in-field maintenance or cleaning, all you must do on this gun is slide the feed neck forward, and you can run a squeegee from the breech. This ease of use allows cleaning to be effortless and quick.
At only 20 inches in total length, the BT-4 is perfect for woodsball play. Though it weighs 5.5 pounds, the gun is comfortable to shoot, and the incredible balance of the weight make carrying it for hours at a time easy. With the center feed design, the shooter can easily look to the left or right of the gun and not have their field of view obstructed by the hopper.
Though the BT-4 is entry-level, any level of player will be that much better by having this as their primary gun. Did we mention it hurts like a kick from a mule? Your opponents will never imagine that you are shooting them with a low-budget gun.
Player Level: Beginner
Weight: 2.2 lbs.
Length: 19 in.
For a reliable, sturdy, and accurate paintball gun without breaking the bank, the Azodin Kaos is it. With its aluminum frame and non-slip rubber panels, you won't have the "cheap" feel you get with most guns in this price range. No to mention the Feather Striker System by Azodin makes this an epically awesome gun for the money.
This gun can be trusted, especially when you expose it to physical play. If you're one that likes to run, jump over or crawl under obstacles, and play in rough areas, this is the gun for you. Never once did we have the feed neck come off or have to worry about a portion of the weapon breaking apart during play.
It does operate on either CO2 or Compressed air, making it cheap and easy to shoot. On a 20-ounce tank, you can expect to get around 1000 shots before needing a refill. This longevity, of course, depends on the weight of paint you are shooting.
Surprisingly, for a cheap paintball gun, the Kaos is extremely accurate. This accuracy is in part due to the length of the barrel it comes with out of the box. While most cheap guns include a barrel that is shorter than 10 inches, the Kaos has a 12-inch barrel standard. This barrel allows for increased accuracy at a further distance. You can expect to be able to put a round on target at 20 meters with no problem.
The velocity at which the gun fires round is exceptional for this price range. The Feather Striker System, combing Delrin and hardened still helps to lower the weight but makes the firing system more dependable. You'll find that you can go through several rounds of play and never have a chopped shot or dry fire.
For a beginner looking for a consistently good time, you won't regret if you purchase the Kaos. In fact, you may create a little chaos of your own.
Player Level: Beginner
Weight: 1.8 lbs.
Length: 16.5 in.
Perhaps the highest priced gun on our list, the GOG eNMEy is still cheaper than most other high-end guns, yet still, packs the same punch. Additionally, though a higher price than the others on our list, the eNMEy is the lightest, weighing in at just under 2 pounds. Don't worry, though. The full metal construction gives you the peace of mind in its ability to withstand any elements.
Perhaps what makes the eNMEy so light, and why we wanted it on our list, is due to it being a fully pneumatic paintball gun. What this means is that instead of having a hammer and bolt system to shoot the rounds it simply uses the power of air. There are less moving parts which equal a longer lasting gun and little to no maintenance.
Some think that being fully pneumatic will cause the eNMEy to have less power. That's just not so. Shooting the eNMEy, you'll still be able to leave welts on your enemy even at 20 yards. However, with no object, other than gas, impacting the ball, you will not have any breaks or chopped shots.
Surprisingly, for us, the gun was extremely accurate. Like most, we thought it would only leave the paint at the mercy of the wind since it had nothing pushing the balls out. However, with its 12-inch barrel, we found that you could hit a 3-inch target from over 20 yards away. For a cheap paintball gun, that kind of distance is almost unheard of directly out of the box.
Being fully pneumatic makes it a better gun for younger players, as well, because it has zero kickback. Add that in with its lightweight, and it makes the eNMEy perfect for young players, and parents, to safely enjoy the sport.
Conclusion
Sure, you can take hundreds of your hard-earned dollars and spend it on a more expensive gun. If you've got that extra money, why not? However, to be practical in paintball doesn't require you fork over that amount of money. We've proven that quality exists in a cheap paintball gun.
As always, do plenty of research before you invest your money into a piece. After all, the partnership between you and your weapon should be the strongest one on the field. You want a gun you can trust and can enjoy shooting, especially knowing you didn't spend a small fortune on it.