We may earn commissions for purchases made through links on our site. Learn more on our about us page.
The problem, unfortunately, is that most cheap paintballs don't work anything like the expensive ones. Therefore, your practice turns into you struggling to keep the paint from breaking inside your gun or, worse; you spend your entire practice time cleaning your gun because the cheap paint couldn't make it out of your barrel. There is, however, a better way.</strong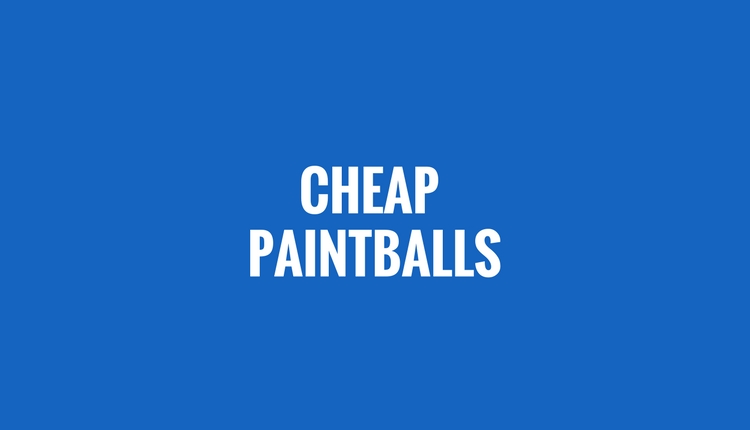 Cheap Paintballs
Believe it or not, there are cheap paintballs on the market that perform much like the expensive stuff. Though they may not be the same, these paintballs make having practice time or a backyard skirmish much more inexpensive. We've taken the liberty to put together a list of some of the best cheap paintballs. Check them out for your next practice session. You may be pleasantly surprised by how far these paintballs have come.
Caliber: 0.68
Washable: Yes
For a paintball specifically designed with recreational players in mind, the JT Toxin is the ultimate ammo. The Toxin series can function perfectly in any weather condition and aims to not break in the gun but to splatter easily on contact.
In fact, testing shows that the Toxin series paintballs outperforms some of the higher priced rounds. While the match-grade paint was leaving groupings of around 24inches at roughly 50 yards, the toxin was able to cut that diameter in half, leaving clusters approximately 12 inches wide. At that distance, with cheap paint, that level of accuracy is almost unheard of in the industry.
The quality of your paint is paramount in determining how high of a velocity your gun can shoot. Even with the marker cranked up to 360 fps, the Toxin paintballs still flew out of the gun with no issues. These balls are excellent at breaking on contact, as well, unlike other cheap paintballs. This ease of breaking makes them perfect for the backyard skirmishes or for shooting all day in a speedball round. Regardless of how you shoot or the gun you use, these Toxin paintballs will take away the stigma around cheap paintballs.
Caliber: 0.68
Washable: Yes
As the name suggests, Seconds Paintballs are what is left over when the manufacturers end certain runs or sell out of a particular ball. Manufacturers then sell them to companies like Seconds who package them together for a conglomeration of balls. In short, you are getting several different types of high-dollar balls in one bundle.
Since they are an assortment of brands and manufacturers, there's no way to tell you exactly which you will get. However, during testing, these balls performed exactly as one would expect out of the expensive stuff. For the price, these are perfect for target practice or practicing with your team outside of the tournament setting.
Caliber: 0.68
Washable: Yes
Wrek Elite paintballs are perfect for any woodsball play or recreational shooting. These paintballs are constructed using high-quality materials for the outer shell. For woodsball, this shell allows the paintballs to go through brush and leaves without bursting prematurely.
Testing shows that the Wrek balls work extremely well in high temperatures. Most common in cheap paintballs is that the heat makes them less likely to break on impact. Even at 90 degrees outside, the Wrek balls performed exceptionally well.
Unlike other cheaper paint, the Wrek paintballs worked great in even the expensive guns, where high-quality paint is needed. The velocity was able to be turned up to its highest setting with minimal breaking in the paint.
Caliber: 0.68
Washable: Yes
Designed with a thicker shell, the Valken Infinity paintballs are perfect for the entry-level guns. Since the cheaper guns tend to be harder on the paint they shoot, having high-quality is a must. The Infinity series is the perfect combination of price and quality.
What made us want these balls on our list was the fact they seem to never break inside the gun. Perhaps it's the outer shell, but even during testing, out of 4000 balls, not a single one broke inside the marker. Furthermore, while most cheaper paintballs will just bounce off the enemy, the Infinity series didn't have this problem.
The Valken Infinity are also available in multiple colors; white, yellow, and orange are a few options. With these paintballs, you won't have any problem, no matter what style gun you are using or how hot it is outside.
Caliber: 0.68
Washable: Yes
Rec Paintballs were designed specifically for recreational play. Though not ideal for tournament operations, the Rec Paintballs work perfectly for backyard practice and skirmishes. With such a high-quality ball at such a low price, you won't feel the pain in your wallet, even when your marker is on full-auto.
What we liked about the Rec Paintballs, and why we wanted them on our list, was because they were perfect in shape. When opening the package, not a single on was distorted or had any dimples. This quality allowed them to flow out of the gun without any issues.
The less-expensive guns didn't have a problem shooting these either. In fact, during testing, is was the cheaper guns that performed better with these balls.
Caliber: 0.68
Washable: Yes
Perfect for both Woodsball and Speedball play, the Valken Grafitti is the highest quality of paint on our list. You can rest assured that your paintballs will shoot accurately and break upon impact with every shot.
Why we wanted to include the Graffiti series on our list is their consistency in construction. Through a visual inspection of an entire 500-count bag, each ball was a replica of the first. Not only could you not see the seam, but you also couldn't even feel it! When you add the extra care that Valken takes in packaging and you get a damaged product, then you can see why this makes the list.
The Graffiti balls won't break when they come into contact with the brush in the woods, but they break easily on clothing. This feature means all woodballers can trust them to get to their destination and speedballers and trust that they will break each time.
Conclusion
Finding the perfect high-quality paint at a low cost is a must if you are going to be doing a lot of recreational shooting. You want a ball that's easy on the wallet but hard on the enemy; easy on your gun but consistently makes it to its intended target.
Not all paintballs are created equally, especially as far as cheap paint is concerned. That's why this list is so important. It shows that it is possible to have great paintballs at exceptionally low prices. Don't be afraid to try these paintballs on your next outing; your opponents won't know the difference.