We may earn commissions for purchases made through links on our site. Learn more on our about us page.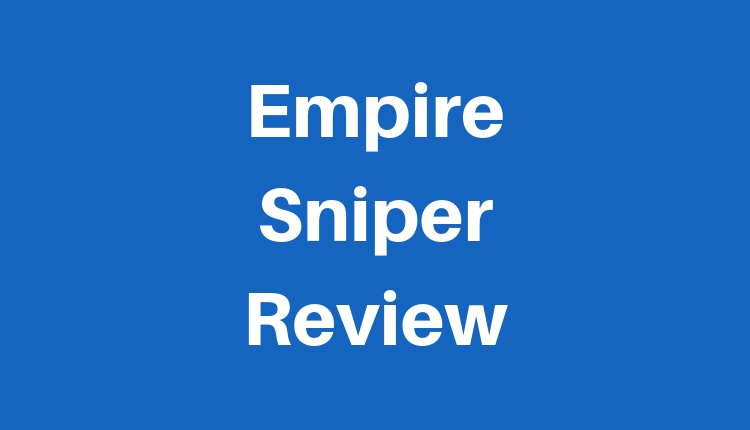 Are you looking for an Empire Sniper review that answers all your questions?
Don't worry we have you covered.
PROS
Firing is quiet
Firing is very smooth and accurate
Comes with an auto trigger
Ready for combat straight from the store
Price
CONS
Price
Simple barrel kit
Not as many upgrades as other markers
VERDICT
Great those ready to elevate their game

This marker takes the predecessors flawless track record and ups the ante.
It contains built-in additions that every modern paintballer expects.
If you're in the market for the best pump-action paintball gun that has years of happy paintballers behind it, the Empire Sniper Pump may be just the right marker for you.
But like most consumers, you probably want to do a little research before shelling out your hard-earned money.
That makes plenty of sense and so what do you say we take a deep dive into the features and benefits of this marker.
How about we see if it is the best fit for your battlefield persona?
Or is it just another over-hyped marker?
Empire Sniper Pump Review
Straight out of the box this marker is ready for you to jump into tournament play and capture the glory and that is no small feat. The construction of this high-end pump paintball gun comes from the renowned blueprints of the Autococker designs. Building on a marker that is already illustrious the world over the designers at Empire has crafted the Empire Sniper. They created this marker to be competition for all the other tournament level paintball guns out there.
The Empire Sniper Pump gun gives you these features and benefits in its stock model:
A kit comprising several Allen wrenches for maintenance and spare parts
Device to block your barrel
Multiple sizes of barrel inserts
Pump marker that is tournament ready
Operates with low pressure
Speedy firing with the auto trigger
2-piece aluminum barrel (14")
Barrel threads made to the Autococker specifications
10 round capacity feed system
Detachable pump plate
Proprietary handle and sled
Designed for vertical feed
PSI gauge that can mount on either side of the marker
See An Unboxing of the Empire Sniper
The Empire Sniper paintball gun has some impressive specs.
But let's get deeper into what makes this tournament level marker the right choice for your battlefield exploits.
A Few Words About The Empire Sniper Pump Manual
The Empire Sniper Pump gun manual is an in-depth tool that gives the paintballer a leg up on the minute details and maintenance.
It has a detailed break down of the composition and parts specifications.
You will be able to keep your marker working at t's highest capabilities, and that will increase your credibility on the field.
After all, only a newbie wouldn't realize they need to lubricate and clean their gun after each use.
Where To Find The Empire Sniper Pump For Sale?
Even with its highly efficient production and all the fantastic features, this gun comes in at a reasonably mid-grade price.
There are less expensive choices from companies like Azodin.
But for what you are getting when you buy the Empire Sniper the price is well worth it.
Available on many sites the average price ranges from $380 – $420.
For a new player, this may seems like an astronomical price tag and be a bit of a deterrent but take a deep breathe and think about what you are getting.
It has a durable construction and ready to play straight out the box.
This marker will quickly earn its money for you during your scenario campaigns.
Empire Sniper Pump Action Goodness
If you're ready for a super reliable and durable gun to complete your paintball kit, then look no further.
That is what the designers of this marker wanted to bring you.
So Empire crafted everything on this gun from the handgrip to the barrel to bring you the perfect play.
The first thing to consider when thinking field performance is the comfortability of use.
Several aspects of this marker come together to make an ergonomic product.
Down to the molded wrap hand grip with its perfectly crafted finger grooves, the Empire Sniper screams comfortability.
The entire frame of this gun becomes a testament to the designer's dedicated to creating a marker that is for the player.
Composed of aluminum the Sniper won't add extra heft to your kit (it weighs just a meager 2 pounds) and therefore frees you up to be as stealthy as you want to.
Several little additions shine to add on to the lightweight frame.
The marker contains an ambidextrous adapter so that it doesn't matter if you are a lefty or a righty.
The auto trigger is one drill to allow for the right weight allotment.
How much more comfort does a paintball player need?
As much as they can get that's why the designers even made the safety button effortless to reach.
This highly functional pump action paintball gun is perfect for the newbie or the seasoned veteran.
And it can play on the same level as its many high-performance peers.
It is no wonder that the industry recognizes the Empire Sniper as one of the most effective ones on the market.
It becomes evident when you see all the great thought these designers put into the crafting of this paintball gun.
Empire Sniper Pump Feeding Tube
One of the pluses to this marker is the feed system that comes with the marker.
The 10-round system is easily installed and converts your marker into a paintball scattering machine.
On top of making this as an inbox upgrade, it requires no tools and just a few minutes to execute.
Empire Sniper Pump Firing
All of that is well and good.
But if this marker does not sparkle when you fire it, then that's a no go.
It would be pointless to talk about the durability or even the comfort-focused manufacturing of it.
The good thing is that this paintball gun does not suffer from any negative aspects when it comes to firing.
It starts with the feel of the weapon in your hand.
This feel is reason enough for all the accolades that the paintball community showers on the Empire Sniper.
And you can pair that with the fact that it has a rapid-fire capability akin to most of the semi-automatic paintball guns that share the battlefield with it.
Not to mention the incredible accuracy at distances of more than fifty feet is impressive.
Quickfire is excellent, but easy quickfire is even better and with a two-finger pump assist.
This fun addition to the features allows the MilSim player to re-cock just be pressing their two fingers together.
Not having to make much movement allows the player to maintain complete focus on their targets while being on the go.
So, efficiency is the name of the game with this paintball gun.
Not only does it fire rapidly and with extreme accuracy, but it does it with all the capabilities of some of the best semi-auto markers out there.
Empire Sniper Pump Durability
I know what you are rethinking for the price; I better get my money's worth.
The Empire Sniper will not disappoint on this point either.
The construction allows this marker to be able to take a beating as is the internal workings.
The aluminum construction is not only to make it a lighter carry but to make it that much more reliable.
But like with anything that relies on mechanisms and gears it requires maintenance.
A strict repairs schedule will only lengthen its life and increase its durability on the field.
With proper patience and upkeep, this marker can last a lifetime of paintball combat.
So, make sure to read the manual to ensure you completely understand your markers needs.
Empire Sniper Pump Options
With all of that, the Sniper also offers limited options for both color and upgrades.
Aesthetically the marker comes in only two colors with all the parts in black.
This may not be as cool as some of the military style markers you see on the field.
But it is not about what it looks like it is about how it functions, and this marker performs mighty well.
Now for upgrades, there are a few that you should think about once you get accustomed to the piece.
But the Empire Sniper certainly does not offer as many as some markers on the market.
Once again though because it is a high-performance piece maybe a limited variety of upgrades is all you need to amp your game up.
Final Words
The Empire Strike Pump is ready to use straight from the box.
And that alone means that it is excellent for that eager newbie that wants to hit the field as soon as possible.
Once you add in all the other benefits and features, one thing becomes evident.
This marker would be dandy for any player at any level of experience even though the price is excellent for this type of marker.
For the beginner, it could be a little bit of an investment.
But this investment will give them a durable and efficiency start to their MilSim career.
So, if all that sounds like just what you were looking for make sure to check out the Empire Sniper Pump.