We may earn commissions for purchases made through links on our site. Learn more on our about us page.
Whether you're a seasoned veteran on the paintball field or someone just getting into the sport, the very first thing you have to consider is your weapon. There are a lot of great options out there, and among the many contenders may just be the Dye M2.
Before you spend your hard-earned money, though, you may want to take a look at all the features and some information about the paintball gun. So let's take a quick look and see if the Dye M2 is good.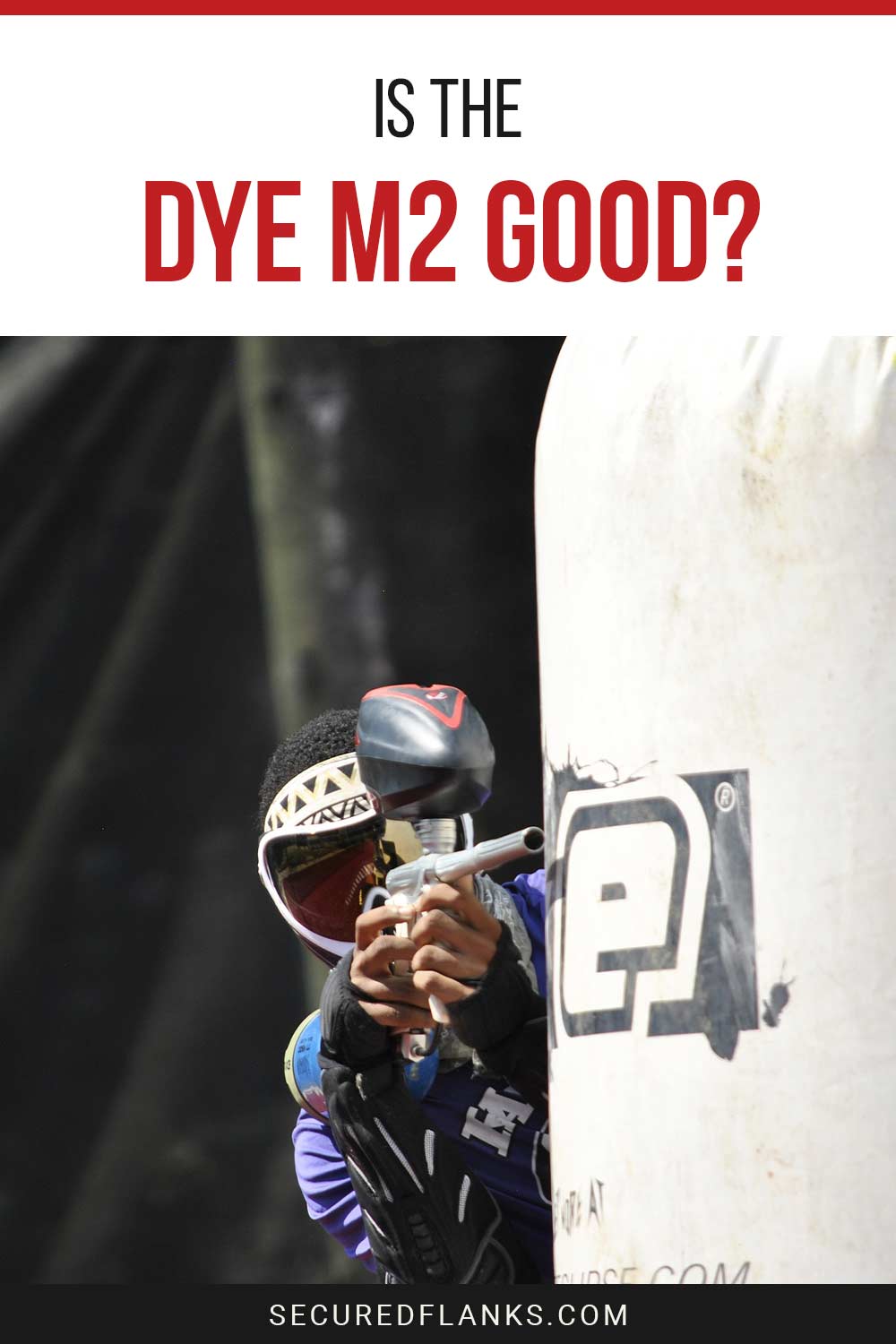 What Are Its Best Features?
To make sure that your money is going to something, you're going to get the biggest bang for that buck. You need to dive deeply into this paintball gun's best features. There are several and here are just a few:
Better accuracy – Better accuracy comes from the close spool fuse bolt design. This allows the gun to operate at a low PSI, which optimizes airflow. This, in turn, improves accuracy and reduces recoil.
Electronic control system – The electronic control system includes improved service systems, better operational controls, internal pressure sensors, and a MOS, which is outstanding.
Rechargeable battery – Having a system that utilizes rechargeable batteries makes this a highly efficient and more budget-friendly option.
Five-control joystick – It is outfitted with a control joystick that makes it easy to operate no matter your experience level and gives you optimal control.
Gas through grip frame – This gas through grip frame design allows for better control and flexibility when it comes to difficult situations on the field.
Does It Have a Good Shot Quality?
Several built-in features allow for better shot quality. The gun itself has improved accuracy thanks to the close spool fuse bolt design. The ability to operate at lower PSI gives you more accuracy and, therefore, better-shot quality.
On top of that, the overall design is ergonomic and utilizes high-quality materials, which makes it much more comfortable to handle, and that inevitably improves your shot quality as well.
The final piece of the puzzle is the gas through the grip frame and the internal pressure sensors. These are intended to help the gun be easy to use.
How Do You Charge Dye M2?
One of the best things about this gun is that it uses rechargeable batteries, but that means you have to understand how to charge your Dye M2. However, unlike other options, it is quite simple.
The paintball marker utilizes a micro USB cable and port to charge. The cable itself comes with the paintball gun. So once you need to charge, you must hook up your USB cable to the charging port on the gun and plug the other end into a power supply.
How Do You Update Dye M2?
Because it utilizes software to calibrate and run its internal systems, there is going to be a time when there needs to be system updates. So periodically, the company itself uploads these updates to its website to fix bugs and add new features.
Of course, don't go to the main website of Dye itself, you need to go to the Dye M2 website, and there you will be able to find any new updates.
Once you navigate the website, you'll have to ensure that your paintball is hooked up to the computer, and you can do that by utilizing a USB cord. Then hit upload, and this should update your paintball systems.
Is Dye M2 a Popular Choice?
Over the past decade or so, the Dye M2 has been developed and re-engineered to ensure that it has a lightweight design and excellent performance.
This paintball gun is more than just a pretty face, though; it is packed with tons of excellent electronic features that optimize your gameplay. With all this comes the significant ability to customize and adjust the gun to meet your needs.
This is why many people opt to utilize it. That, coupled with the rechargeable battery and the high accuracy, means that this gun can be used for just about any paintball battle you're getting into.
Final Thoughts on the Dye M2
The Dye M2 is a very good paintball gun. With all the extra features, it is a little more difficult to navigate if you're a novice, but still a highly intelligent selection if you're looking for optimal gameplay.
This could be an awesome choice for veteran paintballers out there looking for a new gun. Its accuracy and ease of use give it a wide range of options when it comes to situations and gameplay.