We may earn commissions for purchases made through links on our site. Learn more on our about us page.
There are a lot of great paintball guns available on the market today. Each of these is crafted by companies and brands that are dedicated to delivering high-quality options for paintballers. 
But maybe one of the most popular is Tippmann. Even within Tippmann, though, a wide range of models can be had.
One of the best, though, is the Tippmann A5 which has unique features that allow it to shoot faster than most of its competition. Not only does it offer speed and premium-grade features, but it is also durable and reliable.
Just saying it isn't quite enough! So we thought we'd take a look at some of the key features that make us feel that the Tippmann A5 is an excellent gun for just about anyone.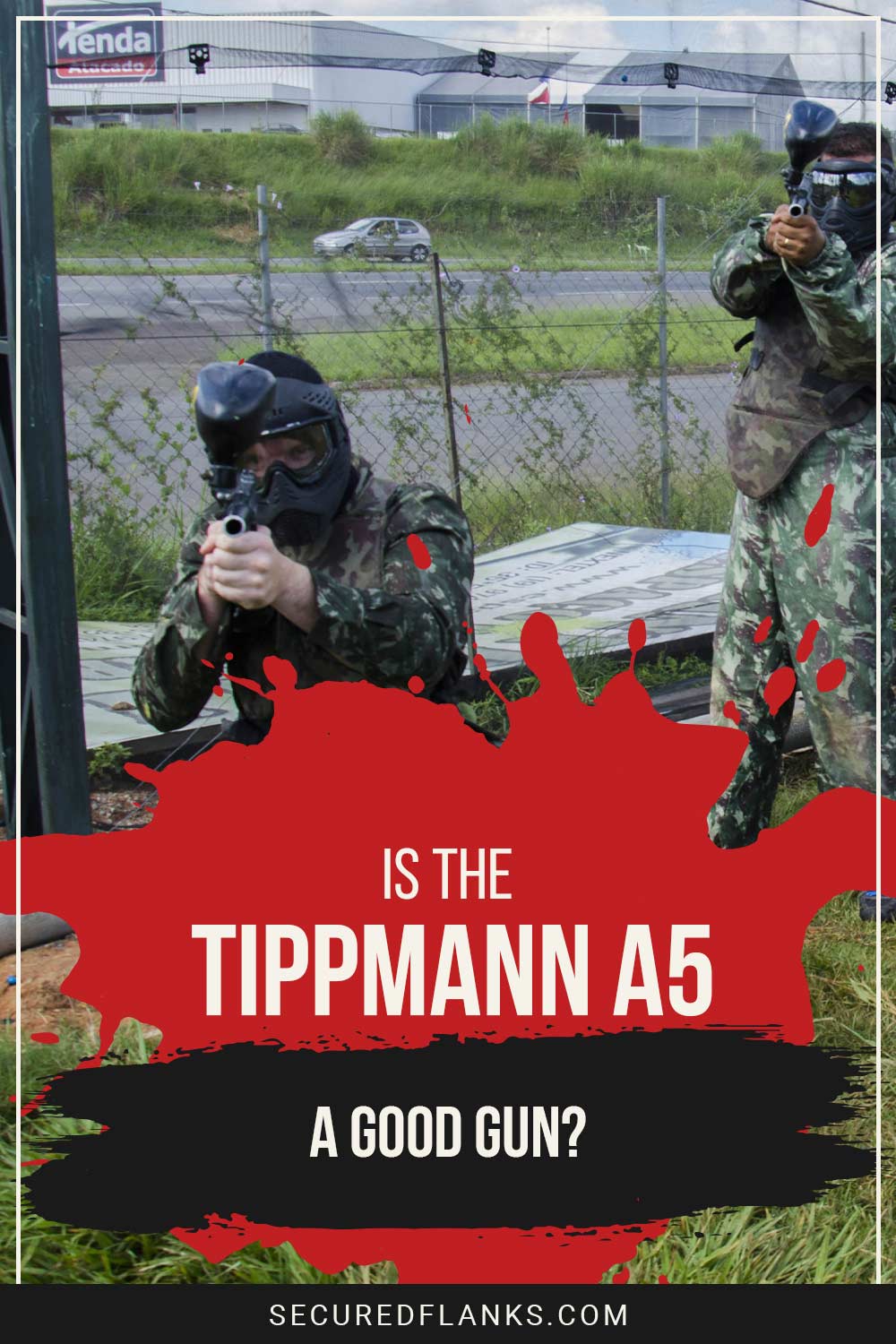 How Fast Can a Tippmann A5 Shoot?
Maybe one of the best features of this paintball marker is the fact he uses a star-shaped loader and a cyclone feeder for improved tactical capabilities. This setup allows each paintball to get and optimize the air pressure used to create force.
This setup allows for paintballers to have rapid shot capability. The A5 Is optimized to be able to shoot 15 shots per second. That's very rapid and, on top of that, is highly accurate even for long distances.
What is a Response Trigger for Tippmann A5?
The Tippmann A5 is outfitted with a response trigger system. This is an E trigger that allows for a single shot or an auto-firing mode. That means you can adjust your shot capabilities per the game's needs.
In other words, if you're playing a game of speedball, you will want this weapon's Full Auto firing mode capability. On the other hand, if you're more of a tactical combat player, the single shot could be more efficient and accurate. 
Is it a Good Choice for Beginners?
This paintball gun is durable and reliable, and that makes it a great option for just about anyone. In addition, the versatility and customizing ability of the gun allow a player to explore the different types of paintball.
That is, so many advanced features might be challenging and perhaps a little on the pricey side for someone just starting. 
Ultimately, it depends on your budget and what you're looking for. If you're someone who knows that this is gonna be yours, Just investing in a good elevate your experience on the field.
What Are Its Flaws?
Even though this model from Tippmann has a wealth of features that make it an excellent choice for the paintball enthusiast, there are still a few things that could be done better. 
Because of all the extra additions and the use of a metallic body, the marker is heavier than other options.
Along with this, the barrel is not customizable, and the marker can only utilize Tippmann brand paintballs. Other than that, this paintball gun is an excellent option.
Does it Have Quality?
Tippmann prides itself on delivering high-quality products with ultimate durability. For this model, they did just that as well. Everything from the barrel and its metal construction to its high-quality E trigger gives this model a vast amount of quality.
When you're looking for quality, you want durability and longevity, and because of the premium-grade materials used in this gun, as we've said, it will last you a lifetime. That is, as long as you maintain the maintenance and keep up with any issues that may arise.
The high-grade materials and metal frame give it enhanced ability so that it can stand up to even the toughest paintball game end player. All of that, together with the great fire rate and accuracy capability, makes this an investment that will give you more bang for your buck.
Final Thoughts Is the Tippmann A5 a Good Gun
The Tippmann A5 is a great gun when it comes to versatility, accuracy, and firing capabilities. Most experts say this when they talk about it, but there's so much more. 
Due to the careful construction and use of high-grade materials, this paintball marker is the most popular, and for a good reason.