We may earn commissions for purchases made through links on our site. Learn more on our about us page.
Not all humans have the best eyesight and require either corrective surgery or prescription glasses. This can be even more of an obstacle when a player wants to participate in Paintball games requiring a mask and goggles.
However, plenty of products on the market allow combatants to wear their glasses and goggles comfortably.
Even major brands like Valken, Empire, V-Force, and Virtue will have a mask and goggle combo that will fit the needs of the visually impaired. This article will divulge a few of these products and give tips for those looking to begin play.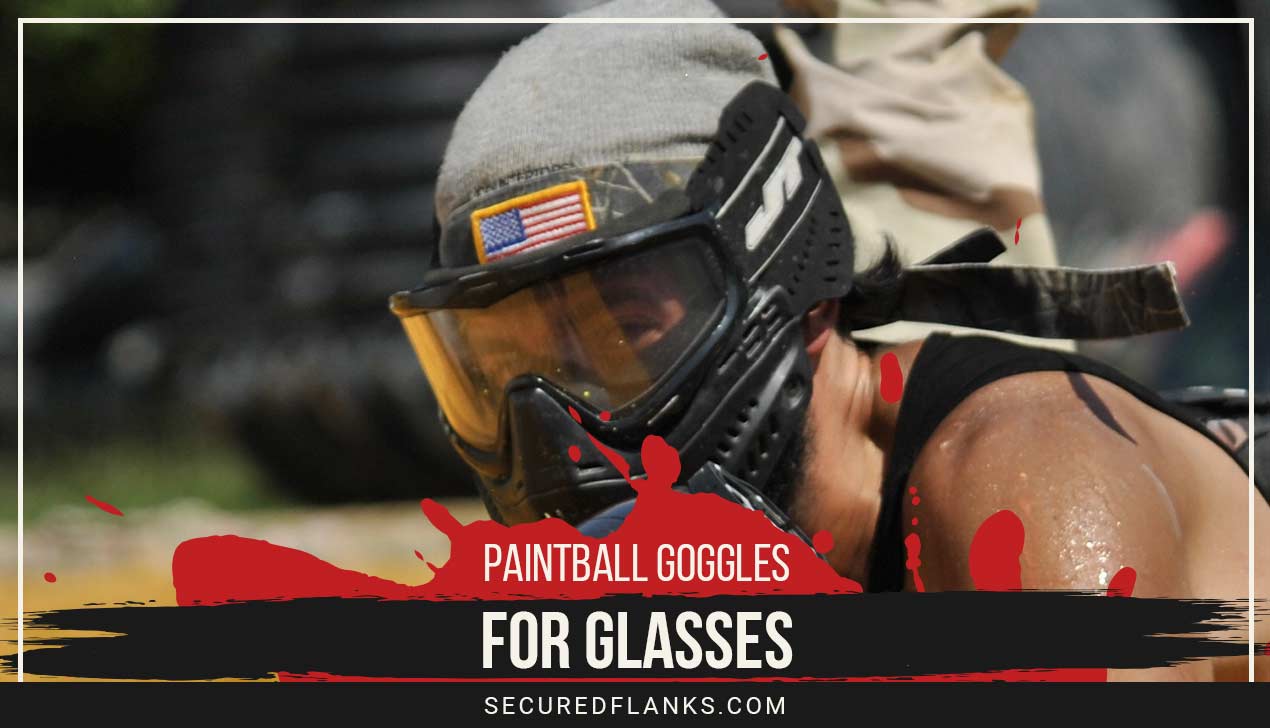 Can you wear Glasses with Paintball Goggles?
Yes, as mentioned above, dozens of products from some significant manufacturers can fit the needs of all glasses-wearing players. Of course, certain brands will not fit, but that is the beauty of this market; there are various options to shop from.
There will be different goggle setups to choose from. There is the whole mask, half mask, and goggles only with custom head protection (Shemagh, helmet, ballcap, or similar).
This game is designed with a neat customizable individuality element regarding body armor and wear.
What are the Most Popular Paintball Goggles?
Different platforms offer Paintball equipment; therefore, sales numbers may vary; for instance, Amazon's best sellers are Xaegistac, followed by HK Army, DYE, Virtue, and Lancer.
Other experts speak on the quality of Push Unite, Bunkerkings CMD, and Empire.
Some popular brands would surprise some people; Oakley's is an extremely popular Sunglasses manufacturer that has gone ahead and produced a highly rated set of goggles.
However, according to historical sales, the one mask that comes up the most is the Dye Precision i4 Goggles and Mask.
Best Paintball masks if you Were Glasses
After going through the reviews and readying the company pages, there seems to be a rather good overall, and below is a simple list with features that distinguish them from one another:
Empire EVS Thermal Goggles—Half Paintball Mask compatible with all eyeglasses, excellent ventilation
VForce Armor Fieldvision G3 – Full Paintball Mask offers lightweight protection, clear optical anti-fog tech
Push Unite Paintball Goggles – Mask with Quad Pane Lens anti-scratch, anti-fog tech, intelligent ventilation design
JT Spectre Flex 8 Thermal Goggles – Full Head and Face cover with intelligent ventilation design
Valken Paintball MI-7 Goggles—Full Paintball mask with unique impact-absorbing foam, anti-fog tech
Paintball Goggles you need to Avoid
There are older technology goggles that will fog up or get scratched easily; buying newer technology goggles will provide better optical clarity on the course, even when sweating.
Also, avoid ski or snow sport goggles – they will not have the same desirable designs to prevent scratching or staining from paint.
There will also be super cheap knockoffs, which will look good but underperform when placed under the stresses of the combat sporting atmosphere especially considering staining from taking paint to the face, or stray plastics from close call impacts.
The rest of the mask protection will follow if you secure a good pair of goggles.
Final Thoughts on Paintball Goggles for Glasses
Paintball goggles will be an important part of protecting a player's head region, not to mention the eyes. There are some quality pairs of goggles that will keep the paint and other game elements out of a player's vision, allowing them to focus on the action around them.
One thing to remember is to save money on non-Paintball goggles; there are some quality goggles with the same technology needed to keep vision clear and the durability to stay that way for some time.
If you want creativity in your headgear, buy goggles and half masks.
Still, that is also available if you are looking for complete head protection.