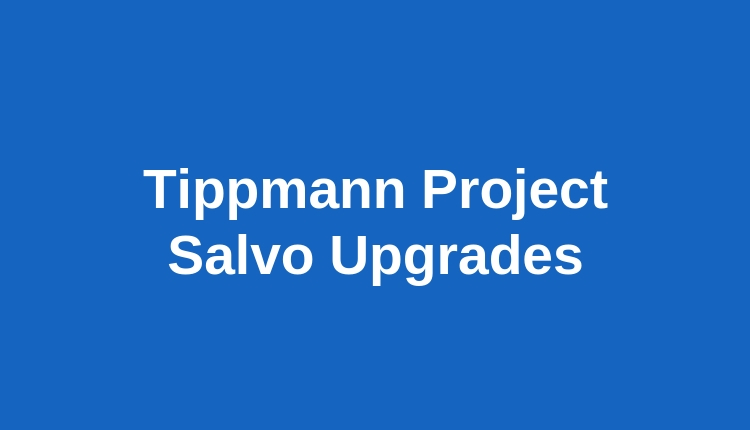 What are the Best Tippmann Project Salvo Upgrades?
The Tippmann Project Salvo is a fantastic gun right out of the box.
But the real beauty of it is the ability to upgrade and personalize the paintball gun to suit your style and needs.
The Project Salvo's affordable price also allows for flexibility.
The consummate paintballer can spend their hard-earned money to make their marker their own.
Showing all their buddies just who they intend to be on the field of battle.
They pluck off each kill with their customized AR-15 style marker.
If you haven't purchased the marker yet, then you can head over to our Tippmann Project Salvo review.
So, what kind of upgrades are there?
Let's take an in-depth look at the tools you can use to make that marker a one of a kind weapon.
These customizations will ensure victory on the battlefield.
Best Project Salvo Upgrades
With the tactical rail space that the Project Salvo comes stock with the choices for upgrades are vast.
There is a wide variety of options now available to you.
This selection means that every paintballer can have a marker that sets them apart from the rest.
Project Salvo Accessories That Will Give You The Edge
There are so many accessories to choose from with this marker.
And the combination of accessories you can choose to upgrade your stock Project Salvo is endless.
With each choice, you are creating that one of a kind markers.
Some of the accessories you should consider upgrading are:
Sights & Scopes
Bipods
Buttstocks
Carry Handles
Lasers
Night Vision
Offset Mounts
Grips & Triggers
And much more!
Of course, there are so many combinations that you could get bogged down with that it's ridiculous.
You can try to figure out which upgrades are the most beneficial to you.
But starting with your sights and scopes could be one of the most impactful upgrades.
And starting in the right place is one of the keys to creating your perfect marker.
Sights for the Project Salvo
On any marker, the ability to adjust your shot and aim truly is a much-needed tool.
Adjusting your shot is necessary whether you are starting or have been on the battlefield for a while.
Now, the Project Salvo comes with an adequate sight.
You may want to upgrade it especially if you are considering using your marker as a sniper.
Maybe you even want to upgrade to a better carry handle which will often have a rear sight attached to it.
Some of these carry handle sights will even allow you to adjust your shot for windage and elevation.
But what if you don't want to take your upgrade quite that far? You can spring for a simple sight upgrade and here are a few sights to consider:
Aluminum Reflex Red Dot Sight
You can find the Aluminum Reflex Red Dot Sight here. It features:
Manufactured by Trinity
Made of durable aluminum
offers easy installation
has a rail clamp mount that is compatible with multiple marker models
Trinity 4×32 Mil-Dot Scope w/ Rings
You can find the Trinity 4×32 Mil-Dot Scope w/ Rings here. It features:
Manufactured by Trinity
ability to adjust your sight using windage and elevation
light diffusion due to its specially treated lenses
housing that is shock resistant and fog proof
Trinity Supply Red Dot Sight
You can find the Trinity Supply Red Dot Sight here. It features:
Manufactured by Trinity Supply
Crafted with a lightweight polymer body
has an integral Picatinny/Weaver mount
utilizes a high visible CQB reticle dot
has an extra accessory rail on the top
Any of these three sights would make your marker superior to the stock piece you currently have.
And these sites would push you that one step closer to ensuring that you set yourself apart from the newbies on the field.
Project Salvo Sniper Upgrades
If the stealthy nature of the sniper is appealing to you, you are in luck.
The Project Salvo's easy upgradability suits your purpose perfectly.
This perfection is especially true if you check out these few upgrades specifically intended to create the perfect sniper marker.
Project Salvo Sniper Barrel
Tippmann's 14" Sniper Barrel can increase your marker's accuracy.
This smooth finished inner bore and the channeled muzzle porting is the reason for the increased accuracy.
It aids in decreasing the noise of your marker's shots.
Separate from the package there are plenty of other barrel upgrades available for the Project Salvo.
One of those is the Tippmann T2010 Sniper barrel.
This barrel comes with the following features and benefits:
Superior Performance
Greater accuracy and distance
Micro-honed & polished inside and out for precision and additional accuracy
Tippmann Project Salvo Cyclone Feed System
This upgrade will make your marker your own by giving you rapid fire ability.
The Tippmann Cyclone feed system has features like:
Air assisted loading system that feeds paintballs into your marker at up to 15bps
The sprocket links to the air system for synchronization which will mean less breakage and jamming
A wide-mouth, 200 round hoppers included that attaches easily with a quick -release elbow
You can get the Cyclone feed upgrade here.
Other Project Salvo Barrel Upgrades
There are so many barrel upgrades available that this upgrade often is the first under consideration.
Which one should you choose?
Well like with all these choices it depends on what you are looking for in a barrel.
So here are a few options that may answer your needs.
Apex2 Barrel for Project Salvo
The Empire Apex 2 Paintball Barrel helps to increase the distance and accuracy of your marker.
This means more targets hit which could be the difference between victory and defeat.
Some of the features of this barrel are:
An adaptable ramp switch
9 position spin adjustability
Crafted with the highest quality of aluminum
Easy maintenance with a toolless disassembly
Left and right hook, drop shot and long flat trajectory with a twist of the barrel
Project Salvo Flatline Barrel
Another choice when thinking of upgrading your Project Salvo barrel is the Flatline barrel.
Its quick thread design is easy to attach.
And the Flatline barrel's design increases the range and accuracy while eliminating any arch to your shot.
This barrel will give your marker these extra features as well:
Shoots over 250 feet
Puts backspin on the paintball
Easy installation
Includes an extra rail for non-Platinum series 98's
Get more info on the Flatline barrel.
Summary
Now you have a handle on some of the many upgrades you can make to your Project Salvo paintball gun.
You are set to create that one of a kind marker that will set you apart from the rest of the warriors on the field.