We may earn commissions for purchases made through links on our site. Learn more on our about us page.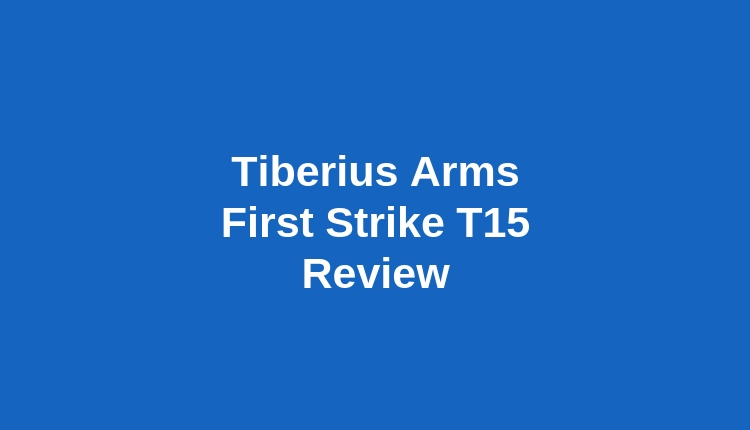 Tiberius Arms First Strike T15 Review

We cover everything you need to know to make a buying decision in this Tiberius Arms First Strike T15 Review.
PROS
AR platform = almost limitless customization
Consistency and reliability potential
Above-average construction materials
CONS
Investment required to get the marker working well
Proprietary barrel
Upgrades immediately needed for proper functionality
VERDICT

Great mag-fed marker for top performance.

Tiberius Arms First Strike T15 Review
There are three main reasons why this mag-fed paintball marker is appealing:
It is mag-fed;
Its looks and dimensions replicate the AR platform; and
Like the AR, it is customizable.
Overall this is a great mag-fed paintball gun.
There are some issues that any potential buyer should be aware of before deciding.
And we will go through those in this Tiberius Arms First Strike T15 Review.
Tiberius Arms First Strike T15 Specs:
Firing Modes: Semi-auto
Propellant: CO2or Compressed Air
Bore size: .683
Barrel length:14"
Tiberius Arms First Strike T15 mag-fed Systems
Like any new technology, the mag-fed system in paintball currently suffers from reliability issues.
From a business perspective, it all makes sense.
You expect that a company systematically goes about R&D.
They have to make sure that this new technology has a profitable place in the marketplace.
Before dumping a lot of money into R&D to improve the design and function, they must be profitable.
This is the where mag-fed systems currently live.
Tiberius is aware of the problems with its mag-fed paintball guns.
Unlike other manufacturers, they are going to great lengths to work with its customers through these issues.
Many stories are out there of owners of the T15 sending the marker into the company and getting a fix free of charge.
Of course, these stories also usually involve having to send the marker in many times.
These returns are for different issues, but the point is that Tiberius is customer-friendly.
You can get the T15 to work reliably, but you will likely not get this performance straight out of the box.
It will take some tinkering on your part.
And the company is willing to work with you.
There is also a massive following for this marker on social media.
These groups are where help with almost any issue is available.
What Comes With Your Purchase
What you get with your T15 is pretty sparse.
You get a carry case with custom cut-out foam for the marker, two magazines, and a few tools.
The very first thing a lot of people do is discard the carry case which we do not recommend.
This Tiberius Arms First Strike T15 Review would be incomplete with this recommendation.
The reason for this is because one of the attractions of this marker is the ability to customize it.
That does not mix well with custom cut-out foam as the moment you add anything to the marker it will no longer fit.
However, the carry case consists of spiffy nylon material.
It is not difficult to cut the foam yourself to make room for your modifications.
There is a lot of room in that case so you should be able to keep it a long time even through many upgrades.
See an unboxing of the Tiberius Arms First Strike T15
Tiberius Arms First Strike T15 manual
The product manual for the T15 is a bit thin.
However, it gives you everything you'll need to know to break down the marker & maintain it.
Tiberius Arms First Strike T15's AR Platform
As mentioned one of the most significant appeals of this mag-fed paintball gun is the fact that is an AR platform.
It looks exactly like an AR.
Many of the dimensions and functionality of this marker are AR mil-spec down to the magazines.
However, there are disadvantages to making a paintball marker that resembles a firearm as closely as possible.
The Tiberius Arms First Strike T15:
Weighs over 4 lbs
Consists mainly of cast aluminum
Contains very few plastic pieces
There is a lot of benefits to the user from these design choices.
Real-Life Functionality For An Added Cost
But all that material costs Tiberius money to manufacture.
And the higher price point of the T15 reflects these choices.
The charging handle also suffers by mimicking the AR style.
AR-15's platform primarily operates on a blowback system.
In this system the force of firing the round cycles the action.
The same thing happens with the T15 except it is using compressed air and not small explosions.
Naturally, this will vary yielding different results.
So, the charging handle doesn't always lock back or fully return.
And it needs some manual manipulation at times to get it working.
Overall the inconsistent results from copying the AR platform balance out.
The above-average materials used to make the Tiberius Arms First Strike T15 are a huge bonus.
You will likely not find better results from other mag-fed markers.
You will more than likely find worse results from other mag-fed paintball guns.
Tiberius Arms First Strike T15 Problems
There are a few design choices made with the T15 that are worthy of keeping in mind.
Design Flaws of the Tiberius Arms First Strike T15
First, the T15 can switch between being mag-fed and hopper-fed.
You can accomplish this by opening the dust cover on the side of the breach.
Then turn the barrel so that the barrel port aligns with the hopper adapter on the outside of the marker.
Because of this design choice the barrel that comes with the T15 is not threaded but instead is a twist-lock barrel.
Your Autococker and A5 threaded barrels will not work with the T15.
A lot of paintballers have issues with this barrel dilemma.
This seems like a bit of a setback given that the vast majority of barrels in the industry are Autococker.
So Tiberius' design excludes the ability for most players to use their barrels in favor of being able to use a hopper.
Most people who like mag-fed markers wouldn't want to use a hopper anyway.
There are adapters you can buy that twist-lock on one end.
These adapters have threads for whichever barrel you want to substitute.
But these adapters are not cheap.
Most people who buy the Tiberius Arms First Strike T15 won't be looking to spend money to fix an inherent design flaw.
Because the design allows mag-fed and hooper-fed systems, the breach is actually at the back of the barrel along with the detents.
When the bolt is not cocked, it sits on these detents and flattens them.
So when you are storing the marker, you need to either remove the bolt, cock the bolt back or remove the barrel.
Tiberius Arms First Strike T15 Magazines
It is nice that Tiberius recognized right off the bat that some R&D would need to go into the magazines of a mag-fed marker.
We realize that sounds a little obvious, but other manufacturers didn't get the memo.
The magazines are mil-spec for the AR platform and are pretty sturdy.
This design is durable and can take a beating.
You can drop these mags on the ground during mag changes.
They will survive in the field during matches when people are running here and there.
An excellent design feature of these mags is the way they accept first-strike rounds.
The track through which the rounds load turns the first strike rounds 90 degrees.
When you load the magazine, they sit horizontally.
When they hit that same track again, about three rounds down the magazine, they flip again and load into the breach.
This ensures these rounds do not tip while in the magazine and result in a misfeed.
The first generation magazines had a problem with the loading system.
To load the mags, you use a lever on the side of the magazine to wind the internal line which presses down on the magazine spring and allows you to load.
The line on the first generation magazines tended to break.
Keep this in mind if you intend to buy used and ensure you get the second generation which fixed this problem.
In either the first or second generation magazines you get a capacity choice of 20 round balls or 19 first-strike rounds.
Customizing The Tiberius Arms First Strike T15
The fact that the Tiberius Arms First Strike T15 is on an AR platform means there is nearly endless customization potential.
We will not go into great detail on those options here.
Instead, we will focus on a few customizations other T15 owners have recommended across the board.
First, the gas ports about halfway down the barrel cause some FPS inconsistencies, and we recommend to seal these ports.
The general recommendation is to use electrical tape.
Second, replace the stock handguard.
This handguard doesn't stay locked very well and tends to rotate which is not very convenient if you have a bipod or similar attached.
Third, as with all AR's, you will likely need to get a riser for any sights or optics.
Most people's eyes will not be level with the iron sights when looking down the barrel.
Summary
This marker is a dream for anyone who enjoys shooting a mag-fed marker on an AR platform.
It is still very possible to get the consistency and reliability out of this marker.
You can make it your go-to option in a match, but it will take an investment of time and energy to get it to that point.
With a little tweaking, this is one of the mag-fed markers that can be the best option available today.