We may earn commissions for purchases made through links on our site. Learn more on our about us page.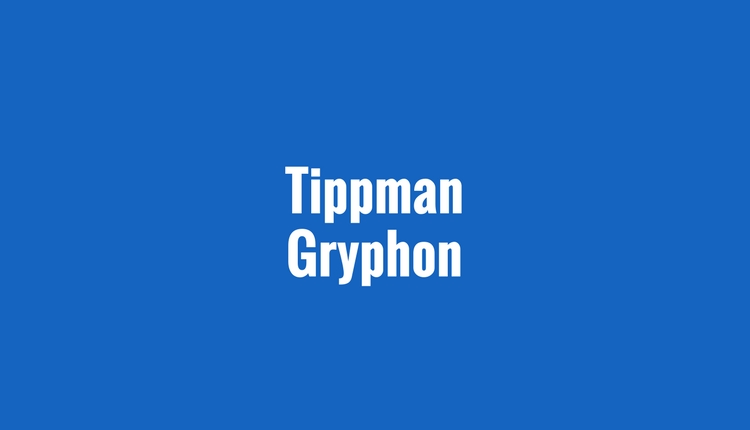 Tippman Gryphon
In this Tippmann Gryphon Review, we will cover the marker from top to bottom.
PROS
Reliable
Extremely Lightweight
Accurate at short ranges
CONS
Slow Trigger
Hard to break down
Very few upgrade options
VERDICT
Ideal for starters
Great if you no longer want to rent
Is built to last
Tippmann Gryphon Review in 2023
Technical Specs
20 inches long
2.1 pounds
.68 Caliber
7-inch Barrel
CO2 or HPA compatible
A5/X7 Barrel Thread
Tippmann Gryphon Shooting
With the name Tippmann on the marker, you expect outstanding quality at unbeatable prices.
Just like most products under this brand, the Tippmann Gryphon doesn't disappoint.
It has a lightweight construction and simple, yet sleek, design.
This design makes for an impressive paintball marker that is sure to up your game.
You may have been on the fence about buying your own marker.
Maybe you no longer want to use hand-me-downs and worn out rentals.
If this sounds like you, then take the plunge and get the Gryphon.
Tippmann Gryphon Shooting Reliably in the Harshest Conditions
When you're in the heat of battle, the last thing you want, or need, is for your paintball gun to jam up or it does not fire correctly.
With the Tippmann Gryphon, this won't be a worry.
You can shoot thousands of rounds through it.
Even after all that shooting, the Gryphon still fires like it did the first day you opened it.
Also, because it is so reliable, you can play in any weather conditions.
Are you worried about the rain affecting your ability to fire?
With the Gryphon, you can have the same dependability as the mailman; Rain, snow, sleet or hail, it will fire.
It will even shoot when it's caked in mud or fresh out of a puddle of water.
Sometimes a common question about the shooting comes up.
What is the Tippmann Gryphon's FPS?
The Tippmann Gryphon fires at about 280 FPS.
See an Unboxing of the Tippmann Gryphon
Also, if you haven't read it yet, you'll find the users manual here.
Perfect for young players
Many parents have fallen in love with the Gryphon, and we understand why.
As a parent, you may be on the search for a paintball gun.
Once you buy it, you don't want a gun filled with pieces that can be easily messed up.
The Gryphon has a simple, yet effective, construction.
This design means that even the most novice of players can't mess the paintball gun beyond repair.
Additionally, the Gryphon is lightweight, weighing in at only 2.1 pounds.
This weight makes it extremely easy for young players to carry it for extended periods of play.
Also, it is only 20 inches long.
At this length, those with short arms can still maneuver around and through obstacles.
Most people feel that the inability to customize the Gryphon makes it a poor choice.
We disagree with this if you look at it from the perspective that it's meant to be an entry-level paintball gun.
It is dependable and reliable, so the inability to change pieces becomes unimportant.
But, you can upgrade the barrel to increase the Gryphon's range and quietness.
Maddog Tippmann Gryphon Value Pack Paintball Gun Kit
This Tippmann Gryphon review would be incomplete without talking about this kit.
Maddog is a 3rd party that packages the Tippmann Gryphon into a great value pack with everything that you need.
This paintball gun kit includes:
Anti-fog Mask
Hopper / Loader
CO2 Tank
Pods
Pod Harness
Barrel squeegee
So if you pick up the Maddog Value Pack Paintball Gun Kit here, then you'll be ready to hit the field as soon as your package arrives.
Streamlined Design
There's no doubt about it; the Tippmann Gryphon looks mean.
It is available in various color options, as well as skull prints.
The Gryphon looks just as good as any of the high-end markers.
Additionally, the streamlining of its design only adds to its range-appeal.
The gas system on the Gryphon is all in-line, allowing for increased ability to maneuver.
This feature also makes it more comfortable to shoot, meaning that there are no annoying gas lines to deal with while playing.
The Gryphon is one of the first entry-level markers to have this in-line gas system.
The Gryphon's hopper placement is a center-fed design.
This design maximizes mobility, regardless of the direction the shooter is moving.
A feature like this makes the marker ambidextrous, as well.
Thus, both right-handed or left-handed shooters can use it with no changes needed.
Also, the new body frame and loader position design provide a more balanced feel.
You can feel this, especially during extended rounds of play.
Overall Performance
The manufacturers designed this marker for beginner and intermediate level players.
When you factor in this notion, the performance of the Gryphon is impeccable.
There are a few items that will take getting adjusted to when using it.
For instance, the trigger pull is short but heavy.
It is possible to shoot with two fingers but will take some adjusting.
That in mind, it can still fire up to 8 rounds a second with the gravity-fed hopper.
Also, if you can walk a trigger, doing so on the Gryphon is a breeze.
The blowback on the Gryphon is somewhat noticeable, especially when you dry fire it.
However, when shooting paintballs, it seems to drop in severity.
One of the best features for the Gryphon is its performance with low-quality paint.
During testing, when firing low-quality paintballs, there were no breaks or any issues.
You need to reduce the firing rate to prevent chopping paintballs.
But if you are sensible and don't try to get carried away with it, there still isn't an issue.
Accuracy
What amazes first-time users so much is how accurate this little paintball gun is.
This accuracy is especially the case at short ranges.
You don't expect a gun in this price range to be accurate, but the Gryphon is.
It only has a 7-inch barrel.
Even still, it can reach distances of 50 feet before the ball starts to drop.
That's while shooting with around 280 feet per second velocity.
You can upgrade the barrel to a 14-inch Tippmann barrel.
This simple modification can increase the Gryphon's accuracy to over 150 feet.
This type of accuracy is all from a beginner paintball marker!
With this gun on the field, in any paintball game style, you will be a productive member of the team.
Very Little Maintenance
It does have one drawback that many people have commented on frequently.
And that drawback is how hard it can be to disassemble.
The truth is, yes, it can be hard to take apart, especially when you try to wing it and not use the user manual.
With that in mind, there's a purpose for that.
You don't have to take it apart completely, though it does come with all of the tools needed to do so.
The Gryphon requires no maintenance beyond your routine cleaning.
And to clean it, you don't have to take it apart.
It contains a few moving parts.
It also has fewer o-rings than the average marker and has fewer parts that will suffer wear and tear.
Testing showed not a single issue with air leakage or paint getting anywhere it wasn't supposed to.
This was after countless hours of shooting several thousand rounds.
Not to mention, it's a Tippmann.
Everyone knows Tippmann guns don't need much maintenance.
Tippmann Gryphon Review Final Words
For a beginner paintballer, there isn't a need for an advanced paintball gun that has more options than your car.
Instead, the greatest need for a beginner is to be able to get out on the field and learn the skills of the game.
Once they get these skills, they can upgrade their gear.
That's why the Gryphon is such an excellent marker for beginners.
Check Price at Walmart
Check Price At Amazon
It allows beginners to hone their skills in aiming and maneuvering in the field of play.
It's effective and efficient, making it cheap to shoot, but carries a ton of bang for its buck.
The Tippmann Gryphon is an all-around great deal for beginner and casual players.
With its look and performance, the other players won't know it's only a beginner's paintball gun until it's too late.