We may earn commissions for purchases made through links on our site. Learn more on our about us page.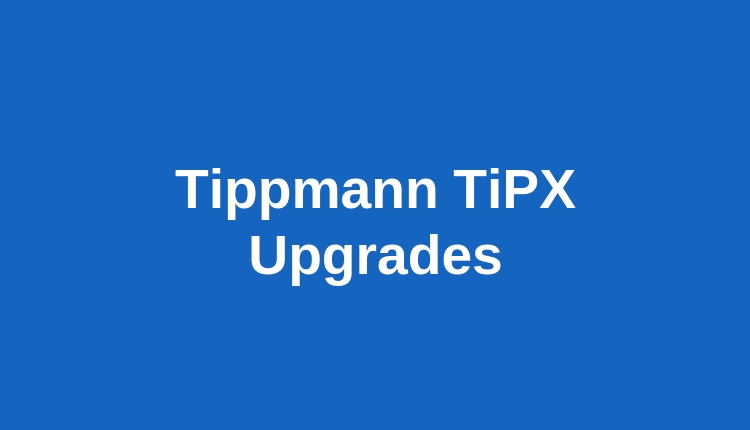 What are a few Tippmann TiPX upgrades that will give you that edge?
Rounding out your paintball gear with a tactical sidearm is a no brainer.
At this point, the only question you should ask yourself is which pistol is going to suit your style.
The Tippmann TiPX would be an excellent choice for any paintballer.
This paintball pistol will level up anyone's battlefield efficiency.
Best Tippmann TiPX Upgrades
If you don't have the TiPX yet, then you must check out our Tippman TiPX review.
Fresh out of the box the Tippmann TiPX is more than enough to enhance your paintball gear.
The Tippmann TiPX is an expertly replicated military sidearm.
Tippmann crafted it so that you can easily carry it on the battlefield.
It is light-weight and compact as well as include the following features:
Adjustable ammo speed with an external mechanism
Removable barrel w/ A5 threads
Ability to add a remote line
Foam-lined, hard shell carrying case
An under-barrel 12g Co2 air system that loads easily
Trigger punctures C02 on its very first squeeze
x2 mags with 7-ball capacity
Enhanced air efficiency and attenuated kick due to its spool valve system
With all those excellent features it is hard to imagine the Tippmann TiPX being any better.
But any seasoned paintballer knows that they can improve even the best marker.
Take the time to upgrade your sidearm and separate yourself from the newbies on the MilSim field.
Check out some of the easy upgrades you can do to create a truly one of a kind pistol.
Tippmann TiPX Pistol Holster
It just makes sense that your first upgrade would be a way to get your sidearm from one place to another.
The stock marker comes with a hard case, but in a battle that becomes cumbersome, so a holster is a way to go.
One of the best choices for the paintballer looking to add to their credentials on the battlefield is the Tippmann TiPX Leg Holster.
Here is why.
Tippmann TiPX Leg Holster
Being tactically sound means equipping yourself with many tools, but you only have one body to carry all that on.
So, utilizing the entirety of your body is just one way that you will prove to your fellow paintballers that you are not just another newbie.
That's why the Tippmann TiPX Leg Holster is such a must-have upgrade.
You can holster the TiPX instead of strapping your sidearm to your belt.
This way you can carry extra mags and other equipment.
The leg holster ensures that you masterfully use all your available space.
On top of using your space smartly, this leg holster also allows you to draw your firearm easier.
After all, it is a military item designed for use on the battlefield and is excellent if you are planning to do any rappelling.
Some of the other cool features and benefits are:
Fits a handgun, pistol, or revolver
Attaches to the waist belt and anchored around the thigh
Completely modifiable fit for comfort
Adjustable straps which lessen movement
You can find the leg holster here.
Tippmann TiPX Barrel
When on the battlefield one of the most important things to consider is accuracy.
Not only for ease of mission execution but also to keep your ammo levels in mind.
So, a fantastic way to improve your Tippmann TiPX's accuracy is by upgrading its barrel.
Take a look at this barrel upgrade option.
Tippmann TiPX Barrel Upgrade
The LAPCO USA Bigshot 8 inch barrel has some great features:
American made
Made of the highest quality aluminum
A hardened finish created through a unique treatment process
Compatible with A5 threads
Tippmann TiPX Barrel Thread
The Tippmann TiPX barrel thread is also something you need to consider when thinking about which barrel you choose to upgrade to.
The barrel thread is compatible with the Tippmann A5 thread.
TiPX Magazine
Another essential upgrade to consider is the ammo capacity that you have on hand.
Maybe you are a little trigger happy.
Perhaps you're playing an extended MilSim game that has you needing more ammo.
The stock comes with two 7-ball magazines, but what if that is not enough.
Upgrading your magazines is just the answer to your problem.
Check out a few of your potential upgrade choices:
Extra Magazine
If you are happy with the 7-ball capacity of the magazines that come stock with the Tippmann TiPX pistol, then why not just stock up on that.
Some of the benefits you can look at when upgrading your magazines with this option are:
Low tension spring system which allows for a more extensive paintball selection to choose from
and less impact from humidity or heat
Straight feed design
Comes with two magazines per package
Easy on paint
Fits all TiPX pistols
Take a look at the extra magazines here.
TiPX Zetamag
Maybe you want the ability to shoot more than seven balls at a time.
Then the upgrade that you need to look a is a magazine that has a higher ball capacity like the TiPX Zetamag.
This magazine has some excellent features including:
High capacity of 20 rounds
Z-Axis reversible which allows it to feed from either end
Twin channel extended paintball magazine
Three magazines in one
This upgrade also includes a dust boot and loading rod
Check out the Zetamag for your TiPX.
Tippmann TiPX Remote Air-Line Adapter Kit
The remote air-line adapter is a significant upgrade to add to your TiPX.
It is easy to install and allows you to power your pistol with a Co2 tank and a remote line.
The Tippmann TiPX Air-Line Adapter Kit:
Attaches a remote line to the TiPX
Is still able to use a 12g Co2 cartridge
Has a built-in check valve
Is a more money-conscious alternative
If you need a remove line for your TiPX, then this should do the trick.
Tippmann TiPX Accessories
There are so many more upgrades that you might consider doing to craft your perfect marker.
Maybe another upgrade to your gear you should think about are the accessories that could raise your game to that next level.
An essential accessory is the Tippmann TiPX Magazine Pouch.
Check out why it is such a great addition to your combat gear.
Tippmann TiPX Magazine Pouch
The Tippmann TiPX magazine pouch will give you storage space for all your magazines, and you will still be comfortable.
This magazine pouch is an excellent addition to your gear because of it:
Is made with high durability nylon
Has two versions: open top and Velcro closed flap
Multiple size choices
Fits a variety of magazine sizes
Each pouch holds one magazine in the open top version & 2 per pouch in the open top version
Contains elastic bungee cords to adjust and keep your mags in place
Has MOLLE webbing o the front that allows you to expand carrying capacity
Has MOLLE straps on the back w/ snap buttons that keep it firmly attached
Take a look at this sweet magazine pouch.
High-Quality CO2
A good quality Co2 cartridge is vital to your upgrade, and one of the best choices would be the Tippmann Special Force 12g Co2 Cartridges.
They are the ideal fit for your TiPX pistol because:
It delivers consistent fill and performance
Is sold in a 12 pack
Of course, you need some high-quality CO2.
Conclusion
Keeping your TiPX pistol stock would be fine, but it is the upgrades that you chose to do that could just set you apart from the rest of your squad.
These upgrades that we suggested are just the tip of the iceberg, so get out there and show the rest of the guys on that battlefield that you mean business.