We may earn commissions for purchases made through links on our site. Learn more on our about us page.
The Paintball Accessories, Gear, and Marker provider HK Army stand for quality products that Paintball enthusiasts can enjoy. 
Many agree that HK Army is a leader within the Paintball community by producing and providing high-quality paintball equipment, markers, and lifestyle apparel.
The company was founded in 2007 and took the industry by storm, becoming an internationally recognized brand with distribution reaching over sixty countries worldwide. 
Many enthusiasts have become familiar with visibility during tournaments and the use of their products by professionals through sponsorships, marketing partnerships, and influencer reviews and testing productions.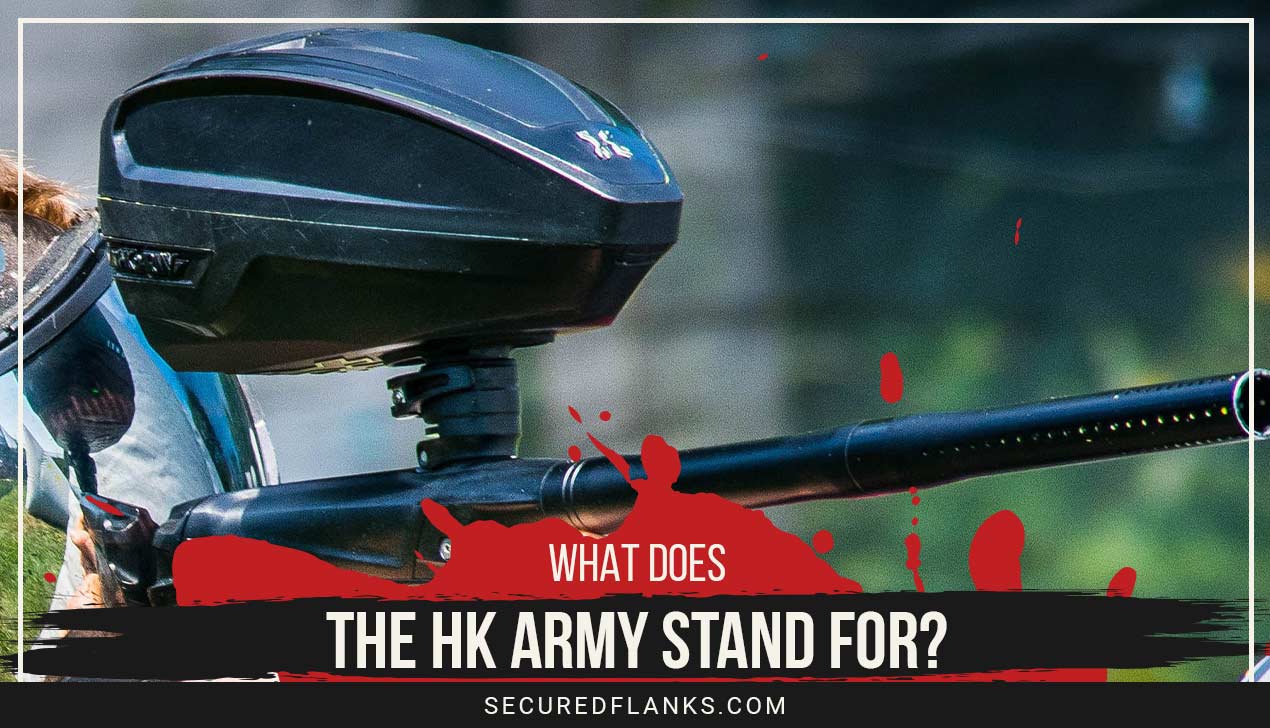 Who Invented the Term?
The HK term has been used since Heckler & Koch designed and produced the project HK50 assault rifle. 
Then again, rumors have spread that the Paintball HK Army term was coined during the late 20th and early 21st century by a group of youngsters known as the gaming clan Hostile Kids.
These individuals took what they learned from the digital realm and brought it to the paintball arena. 
Regarding which member coined the term, it would take a documentary tip interview in which fans and paintball enthusiasts alike can learn about the combat sports' more competitive teams.
When was it Made?
The team was officially founded in 2007; HK Army has provided quality paintballing equipment, protective padding, and marker technology. 
The company is based in Signal Hill, California, giving them a unique position allowing convenient national and international shipping options.
This relatively brand-new company has cultivated a passionate following and reciprocated by providing industry-leading gear and innovative accessories to improve a combat athlete's experience. 
There is also a nice variety of clothing and gear options to which a fan can get fitted and rep the HK army and look good.
How did it Become Popular?
Rarely is there a brand that started the way HK army did, which started as a paintball team with a massive and passionate fanbase and became a company. 
Instantly, as merchandise and paintball gear were being released, brand-loyal customers and fans were purchasing their products.
Very quickly, the rest of the paintball world took notice of the clean lifestyle products, the quality equipment, and innovative accessories. In response, professionals and HK army fanatics, in turn, began looking at and utilizing the HK army line of products.
Therefore, the company grew exponentially as the awareness of its brand spread and proved to be of the highest quality.
What Kind of Paintball Products does the HK Army make?
HK army is one of those companies with products designed, developed, and built by players; the standard of quality products reflects this fact. The Hk Army brand is one of the paintball manufacturers and providers of everything needed to fire some paint. 
This group does it with panache. Presented below are the basic categories of items placed in a list of products offered by the HK army brand:
HSTL Skull mask, goggles, and headwear

Loaders

Air Systems

Paintballs

Gloves, Jerseys, and Pants

Protective gear, Harnesses, and cleats

Barrels and Marker upgrades

Gear bags, cases, and other accessories
Does it Have Quality?
As mentioned in this article, the HK army has built its image on the creativity and imagination of its members and fanbase. Then took that passion and created paintball products that matched the expectations of those people about the brand.
Rated in the above four out of the five-star range, personal and professional reviews agree that these markers and other corresponding gear are of top-notch quality.
Rarely does a company have such fresh lifestyle lines of clothing but also delivers on the Paintball Markers sold and provides quality safety equipment and protective gear.
Final Thoughts on What does the HK Army Stand for?
HK Army is an exciting brand to follow concerning the game/combat sport of Paintball, as well as fashion. This brand provides everything from goggles and masks to Markers and loading clips and everything a participant would need on the battlefield.
Taking a look at what this brand is offering, a customer or fan can see the high energy bright look provided by the fashion and lifestyle line. 
Still, it also has this release-the-beast equipment feel when you visit a competitor in full gear. 
Only bright things are foreseeable for this company, and we, as fans, are lucky to witness them.