We may earn commissions for purchases made through links on our site. Learn more on our about us page.
When wanting to upgrade their equipment, most people want to be able to sell their used paintball guns. However, often finding a place to sell them is too difficult of a task to bother with it. That's why, if you are looking into selling your used paintball gun, take the time to find the best place that works for you.
Online
In today's social-networking age, many people are turning to online websites to sell their used gear. These sites include: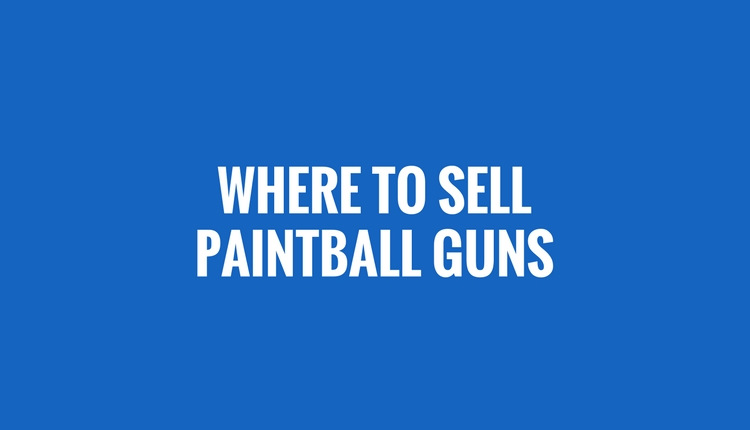 Where To Sell Paintball Guns
FaceBook
Just recently, Facebook has launched what they have dubbed their "marketplace." They have done so in response to many communities starting "yardsale" groups for people to buy and sell merchandise. Groups like this provide an excellent opportunity for you to sell because not only is it free to sell but it's also free to buy.
Ebay
The online auction site has been around for several years, allowing people from all over the world to buy and sell new and used items. However, when selling your item, you are required to pay a fee, usually a set percentage of the ending bid on your auction. Also, while eBay does offer a vast spectrum of potential buyers, many have been scammed from buyers on eBay, as well.
Craigslist
Almost every major town in the world has a Craigslist site dedicated to them. It is free to list items for sale on the website, and they charge no fees for buyers. Also, you can decide whether you want to offer shipping options. Also, you can add several pictures and have an unlimited amount of room to describe your gun.
When using these online avenues, always keep safety a top priority, especially when meeting someone local. Always meet in a public place; often police stations will allow you to use their facilities. And never go alone, if at all possible.
Local Shops
If you are wanting to refrain from using an online service, you may find that a local paintball or hobby shop will offer their patrons access to sell their used gear. Sometimes, this may be as low-tech as hanging an advertisement flyer on a bulletin board. Also, some shops may offer areas of their store designated for consignment sale.
A Consignment sale is when the store will allow you to sell an item, and they will be in charge of collecting the payment. However, they often charge a percentage of the final sale for allowing you to use their store space. This type of arrangement would be a good way to get your item in front of several potential local buyers.
Pawn Shops
Most everyone is familiar with pawn shops and will have one near buy. Pawn Shops offer their customers two ways to get money; selling their equipment or pawning it. Pawning an item just means the store gives you a loan for a portion of the item's value and then, to get the item back, you pay the loan amount plus the added fees. A pawn shop is a good idea if you simply need to get some fast cash. However, don't expect to get the full value of your item.
Pawn shops are in the business of making money by reselling the items they buy. Therefore, they cannot pay the full value for an item and expect to make money. For example, if your gun is worth $100, the pawn shop may pay you $50 in hopes of making the difference in profit. However, they rarely ever sale items for full value either.
Selling your used paintball gun doesn't have to be a long, stressful ordeal. Find which method works for you, decide what you want to get out of it, and sell it. That way you can always have the newest and greatest equipment available.