We may earn commissions for purchases made through links on our site. Learn more on our about us page.
We're going to show you all of the Empire Sniper Pump Upgrades you need to step up your game.
If you're still haven't picked up one of these markers, then go check out our Empire Sniper Pump Review.
Though there has been a surge in realism in the sport of paintball, sometimes it's just fun to rock it old school.
That is what the Empire's new Sniper Pump is.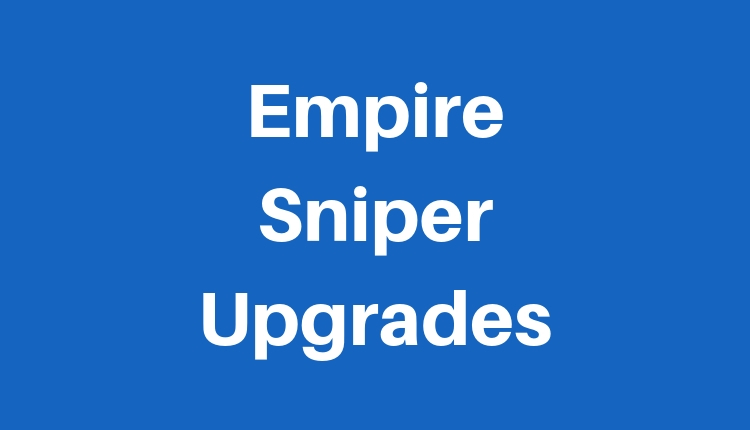 This paintball gun is for the enthusiast that wants to turn back time.
It's for those who wish to have a good old paintball battle without having to enlist in the MilSim militia.
Even though it does not have all those fresh, realistic gun parts, it does have some outstanding upgrades you can use to up your battlefield game.
Best Empire Sniper Pump Upgrades in 2020
This paintball gun straight out of the box has some great features and rides on the history of its predecessor.
The new Sniper takes the name and builds on the foundation of the original Autococker blueprints.
After all, why mess with that legendary gun crafted in 1986 by Bud Orr?
The best creations have a solid foundation, and that is what Empire has done with the Sniper Pump.
Empire Paintball has taken that great foundation and elevating the marker to the paintball world of today.
They have created an outstanding, sturdy, and performance-driven paintball gun.
Straight from the box here is what you will get:
A kit comprising several Allen wrenches for maintenance and spare parts
Device to block your barrel
Multiple sizes of barrel inserts
Pump marker that is tournament ready
Operates with low pressure
Speedy firing with the auto trigger
2-piece aluminum barrel (14")
Barrel threads made to the Autococker specifications
10 round capacity feed system
Detachable pump plate
Proprietary handle and sled
Designed for vertical feed
Can mount Psi gauge on either side of the marker
Even with all those impressive stock features, there is always room to improve.
If you want to step out of the shadows and leave your mark on the battlefield upgrading your paintball is the best and fastest way to do just that.
So, let's take a look at a few key upgrades you should seriously consider.
Empire Sniper Handle
The stock paintball gun comes with a vertical pump handle that is removable.
The process of detaching this piece is simple and takes the removal of a few screws.
The inclusion of all the Allen wrenches you need in your box makes it easy.
Once you remove the screws, the handle slides out.
Empire Sniper Handle Upgrade
With the ease of removal, you can easily upgrade the part and one of the best options for this is the Inception Designs Autococker Trigger frame.
There are a few things that may be a concern to the paintballer.
For example, it comes un-anodized and does not allow the use of the auto trigger when used on a pump gun this upgrade still offers some great benefits.
Some of the benefits of this handle upgrade are:
Slide frame with a 45-degree design
Compatible with multiple Empire and WGP models
Designed to be ergonomic
Empire Sniper Regulator
Regulating your pressure when using Co2 or compressed air is essential to ensure safety and efficiency.
The Empire Sniper Pump comes with a nifty regulatory system that is a built-in inline mechanism.
But like with everything else there are ways to improve its efficiency and functionality.
One of those ways is to add this to the list of your upgrades and take a look at the multiple options you have like the one below.
Inception Designs LPR Low-Pressure Regulator
Inceptions Designs has brought to us another high-end upgrade that will enhance your play and show the rest of the field your mean business.
The LPR or Low-Pressure Regulator's design is to be a balanced regulator.
This balance ensures consistency, and it also has the following benefits and features:
Compatible with many models from Autococker
Easily adjustable pressure
Recharges fast
Ergonomic
More thread adjustment options
Able to be completely rebuilt
Empire Sniper Barrel Kit
Our list of empire sniper pump upgrades would be incomplete without a barrel kit.
A great way to affect your accuracy and range is to remove that amazing stock barrel and replace it with an even better upgrade.
For instance, the Deadlywind Fibur-X which is a 14-inch barrel that will fit your Empire Snipe perfectly.
Check out all the cool benefits and features that come with this upgrade:
Constructed of carbon fiber, so it is light to carry, has better accuracy and keeps you stealthy on the field.
Saves money by using Freak inserts.
3-layer construction that is unique to the Fibur-X
Swabs easily due to its intricate construction
The insert area is CNC aligned and ported
Inception Designs Universal Hammer
If you are thinking about making your marker smoother to use, then an upgrade that should be on your radar is the hammer.
By upgrading the hammer, you can increase efficiency while still maintain full functionality.
And one of the best choices you can make is to utilize the Inception Universal Hammer as that upgrade.
This hammer consists of polished stainless steel.
And is compatible with not only the Empire Sniper Pump but also multiple other models from both Empire and WGP.
The Inception Designs Universal Hammer will give your paintball gun the following benefits:
The cocking point is further back which can stop short stroking
Heavier construction that can make the IVG perfectly aligned with the rear of the gun while still keeping the power of the shot.
A top milled slot for cocking
Rear threaded for cocking rods
Inception Designs Pump Guide
We have talked about upgrading your barrel for accuracy.
And we covered your regulator to make sure your velocity stays the strength you need to be a hero on the field.
But one upgrade that many overlook is the pump guide.
Overlooking this would be a big mistake as with a pump guide upgrade you could make your pump stroke better.
The Inception Designs Pump Guide is one of the best empire sniper pump upgrades for this option.
In fact, take a look at all the cool benefits your marker will inherit by upgrading with this part:
The durable construction of stainless steel
Reduced friction from its fluted design
Extra internal volume from being precision machined
Designed to be shorter than the stock to create a longer pump stroke
Empire Sniper Drift Pump Kit
We talked about upgrading your pump guide already but what if you could get that same upgrade with just a few extra pieces to make your marker our very own.
Doesn't that sound like a good deal?
Well then maybe the Inception Designs Drift Pump Kit is what you should be looking into for your marker.
This kit touts itself as being the essential gear to enhance your Empire Sniper Pump.
You can upgrade it to make it one of the best pump-action paintball guns.
Check out the features and benefits of this upgrade kit:
Pump guide that is stainless steel and fluted
Pump arm constructed of the same stainless steel
The fluted construction of the guide will keep the marker dirt free and maintain a smooth pump stroke.
One screw easy to remove for a no muss, no fuss cleaning
Replaceable bushings
Final Words
That sums up our list of empire sniper pump upgrades.
The Empire Sniper Pump is an extraordinary marker from the get-go.
But let's be real.
You want to impress your squad.
And you want to show the rest of the people on the battlefield that you aren't just another newbie.
So the upgrades, we have been talking about are essential.
The Empire Sniper pump is one of the higher end markers.
And the upgrades will only tack on to that hefty price point to buy it.
But there is no denying that this paintball gun would be a great addition to that paintball arsenal.
And if you have the skill set, it might lead to many victories on the battlefield.
So, shelling out that money for a lightweight, durable piece of equipment could be the best decision you make in your MilSim career.