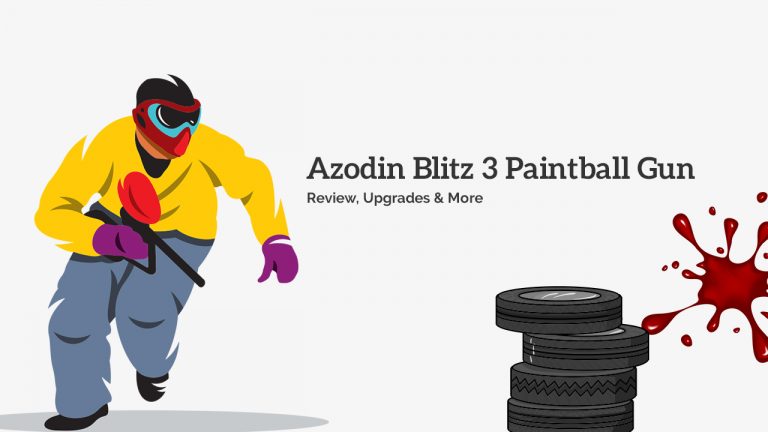 Illustration of a paintball player running with an Azodin Blitz 3
This Azodin Blitz 3 Review covers all of your questions regarding this marker.

PROS
Exceptionally Accurate
Easy Maintenance
Three firing modes
CONS
Louder than most
No on/off ASA
No Quick-clamp feed neck
VERDICT
Easy to Operate
Ideal for Beginners
Inexpensive but can hang with high-end markers
Will enhance any player's game
Azodin Blitz 3 Review
When you first open up the Azodin Blitz 3, you notice that this is a unique weapon.You immediately realize that you've stepped from the beginners into the big leagues. Noticing this is especially the case if you've been renting paintball guns from the paintball shack. Or you've been muddling through with low-quality markers to see if you liked the sport. Either way, the Azodin Blitz 3 is a beautiful, yet amazing, paintball gun.
Technical Specs for the Blitz 3
18.9 inches long
2.03 pounds
.68 Caliber
11-inch Barrel
CO2 or HPA compatible
Autococker Thread
Azodin Blitz 3 Owners Manual
The manual makes the setup a breeze.
With the Azodin Blitz 3, setting the marker up for your first outing is a breeze.
You want to make sure you've cleaned and oiled per manufacturer's specifications.
All these specs will be in your user's manual.
Read the Manual for your Blitz 3!
Easy Setup of the Blitz 3
With the Blitz 3, the regulator is also preset.
Having this preset means that you will spend less time tweaking the settings.
With the easy setup, you will have more time to send rounds downrange.
The feed neck is a screw-type, so it's not as smooth as a quick-clamp feed neck.
However, the hopper still goes on effortlessly and doesn't affect the performance of the paintball gun.
For best results, and less chopped paint, consider using an electronically-controlled hopper.
An upgrade like this will make sure the paint gets properly fed with each shot.
Remember, this style of guns is entirely different than your average marker.
The main difference is that the Azodin Blitz 3 allows you to adjust and tweak it.
With that in mind, familiarize yourself with the user's manual before you change any of the settings.
Just because you can change a setting doesn't mean you should adjust it.
Taking this advice will save you a ton of heartache by not changing the wrong components.
See an Unboxing of the Azodin Blitz 3
Is the Azodin Blitz 3 an Electronic Marker?
Yes.
The Blitz 3 is an electronic marker.
The industry considers the Blitz 3 a beginner's electronic marker but stacks up well against other low-budget paintball guns.
Its battery-operated functionality increases the control of the trigger and firing mechanisms.
Works in any style of play
What became apparent when reviewing the Blitz 3 is that this paintball gun will work in any form of the game.
Whether it be speedball or woodsball, this marker will hold its own and enhance your game.
It is durable enough to withstand the rigors of woodsball.
At the same time, it's sleek and clean-looking enough to appear like a high-end marker in a speedball round.
Azodin Blitz 3 Features
Exceptionally Accurate, even at long ranges.
For such an inexpensive paintball gun, the stock parts on the Blitz 3 are perfect for shooting at longer ranges.
It has a stock 11-inch barrel.
Thus you can expect to hit targets upwards of 100 ft consistently.
Getting that range to 150 feet or more is possible.
All you have to do is tweak the settings to play around with the pressure and velocity.
Light Weight but Extremely Durable
The Blitz 3 is perhaps the lightest gun available on the market.
It weighs in at only 2.03 pounds.
This lightweight prevents shooters at all playing levels from having trouble carrying the marker.
Weight is a factor, especially when lugging it around for extended periods.
Most people, however, feel that a gun this light in weight isn't durable.
This thought couldn't be any further from the truth for the Azodin Blitz 3.
The frame on the Blitz 3 consists of a durable, nylon-reinforced composite.
This material is what allows the gun to be so light.
It also ensures that falls and dives won't damage the marker, no matter how rough you are with it.
Furthermore, the grip is not only robust but comfortable to hold.
No pieces are digging into your hand or wrists and ruining your game.
How Much Does the Azodin Blitz 3 Cost?
The price range for the Blitz 3 fluctuates a bit.
However, you can find the marker for usually between, $150 – $170.
Where Can I Find the Azodin Blitz 3 For Sale?
Easy To Modify / Upgrade
Perhaps the most significant feature of the Blitz 3 is that you can modify it to fit different shooting styles.
For example, imagine that you're the person who likes to be stealthy and sneak up on your enemies.
You can upgrade the barrel to make it shoot quieter which is simple.
Or, maybe you are the type of player that likes to shoot on full-auto the majority of the time.
Of course, you will go through paintballs like there's no tomorrow.
But you can upgrade to a quick-clamp feed neck and electric hopper easily.
Either way, the Blitz 3 makes the perfect foundation for any customization and upgrades.
Firing Modes
Also, since it does have the electronic controls, the Blitz 3 has three firing modes.
These are semi-auto, full-auto, and 3-round burst.
How Fast Does the Blitz 3 Shoot?
With the semi-auto mode selected, you can fire as fast as you can pull the trigger.
On full-auto, the firing rate is roughly 10-15 rounds per second.
If firing on modes other than semi-auto, an electric hopper is always essential.
The electronic hopper can feed the paint in fast enough.
How to Change the Azodin Blitz 3 Firing Modes
With that in mind, this paintball gun is easy on the battery.
In testing, the marker fired four cases of paint alternating between firing modes.
After all those rounds the original battery was still operating at standard capacity.
Keep in mind; this won't be the case with a cheap, off-brand battery.
If you spend the extra few bucks to get a quality battery, you won't have to worry about it dying in the field.
Also, always remember to take the battery out when you aren't using it.
This precaution prevents the battery from draining or damaging the marker.
Outer Shell Looks Incredible
While looks aren't the most critical aspect of a paintball gun, it is still a significant need.
This fact is especially true when you are competing with guys who have spent hundreds or thousands of dollars on their markers.
The last thing you want is to have your paintball marker look like it's any lesser of quality.
That's why, while the Azodin Blitz 3 performs incredible, it has the looks to back it up.
The enhanced, streamline design removes any of the distracting hoses and fittings.
The designers place them all on the inside of the paintball gun.
Also, it's smooth lines, and quality artwork only serves to enhance its appearance.
The gun is available in many different color combinations.
One thing is true across the board; the paint job on the Blitz 3 will withstand the test of time.
You won't have to worry about the paint chopping off after your first round.
This weapon has taken direct hits up close without a single blemish left on the paint job.
Talk about quality! You won't have to worry about your enemies thinking any less of you based on how your marker looks.
Is the Azodin Blitz 3 A Good Paintball Gun?
Overall, the Azodin Blitz 3 is a budget paintballers dream! It is inexpensive on the initial purchase.
It is also extremely economical to customize and upgrade.
Thus, the Blitz 3 will fit any budget and any player level.
If you're looking for a paintball gun that will last then this gun is for you.
If you're in the market for a marker that will remain as efficient and accurate as it was on day one, this is the gun for you.
Where Can I Find A Azodin Blitz 3 Package?
If you're looking for a package with:
Marker
Mask
Hopper
Tank
All Other Accessories
Then,

Summary
On top of that, even players who are learning how to play paintball can effectively operate this marker.
This paintball gun is excellent for a younger player looking to get in the sport.
It's inexpensive for the parent and safe, as well, giving the parent one less thing to worry about regarding safety.