What are the best Tiberius Arms First Strike T15 Upgrades?
The most essential piece of equipment in paintball is the marker.
For those who are new to the sport, a marker is another word for a paintball gun.
Also, the best way to make yourself stand out is to upgrade your T15.
If you don't have this marker yet, then check out our Tiberius Arms First Strike T15 review.
The marker can separate you from the rest of your fellow combatants by the way your trick it out.
So, no matter what model of marker you have the first thing that you should be thinking about is upgrading.
You want to make your stock piece meet your individual needs and desired style of play.
The Tiberius Arms Strike T15 is no exception to this rule.
And now let's talk about some suggested upgrades that could very well make you feel like a superhero on that battlefield.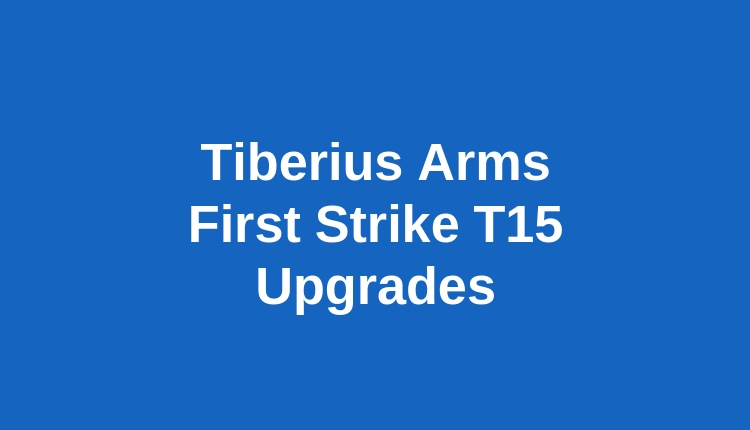 Best Upgrades for the T15
Straight from the box, the Tiberius Arms First Strike T15 is a fantastic piece.
It is portable due to its lightweight construction and a very reliable marker.
The T15  can take all that you throw at it while still maintaining a level of performance second to none.
This is what makes it one of the best mag-fed paintball guns.
The stock specs are already pretty darn good and include:
A two-piece cast aluminum construction
Quad rail handguard made of the same durable aluminum
13ci Tank/Stock combo
Quick disassembly with a two pin format
Charging handle that is operational out of box
Factory set, fixed sights (removable)
With that as a foundation, any upgrade that you make to this marker can only enhance your combat experience during those MilSim games.
Some of these Tiberius Arms First Strike T15 upgrades could even make your marker look more realistic than the stock paintball gun.
And that could enhance the adventure you encounter while on the field.
So here are a few upgrades you should consider when looking to create your personalized marker.
Tiberius Arms Strike Paintballs
Regular paintballs are suitable for the newbies.
But if you want to set yourself apart, you should look into the uniquely crafted Tiberius Arms Strike paintballs.
The aerodynamics of these paint projectiles use fin stabilization to create a paintball that is superior to most.
From this construction the Tiberius Arms First Strike paintballs can travel:
Further
Faster
Longer
With a better accuracy
All of the above can be super beneficial in a tight combat situation.
Want to use these paintballs with any other gun and get more out of your ammo?
Tiberius Arms has thought of that too.
All you have to do is load the balls into the alternative marker's barrel one at a time, and you are all set.
But for those of you that are all about the specs some of the features of the specialized paintballs are:
Increase range and accuracy through fin stabilization and self rifling
Comply with ASTM safety specifications
Breakage at an increased range from the Polystyrene shell
Withstands extreme weather conditions
Eco- friendly and photodegradable
Superior marking and visibility
See the details about the Tiberius Arms Strike Paintballs here.
Tiberius T15 Magazine
The Tiberius Arms First Strike T15 already comes stock with two magazines.
However, everyone except newbies knows that when you are in the middle of battle 40 rounds are not going to get you anywhere.
So, one of the best T15 upgrades you can invest in is stocking up on more magazines.
The good thing is that these magazines come in two packs which mean you get more bang for your buck.
These mags have the following features:
Continuous fed First Strike (19) or .68 gauge round (20)
Spring system for retention that takes no time to clean
No tool needed with a windable lever
Constructed of impervious Polymer
Learn more about the Tiberius T15 Magazine.
Sights
Another vital upgrade to make to the Tiberius Arms First Strike T15 marker and any marker is to upgrade your sights.
The stock T15 comes with a fixed sight, and that will not enhance your skills on the field game.
The sight is removable, so switching it out for one that suits your needs is an easy and necessary Tiberius Arms First Strike T15 upgrade.
And one of the best choices is:
The Tiberius Arms Dot Scope
This scope offers the player a choice between the color of your references dots with absolutely no augmentation.
With the ability to attach a plethora of general tac rails available on the market this Tiberius Arms scope is a next level upgrade.
The TA scope has the following features:
Ability to magnify up to 4x
Illuminated reticle in red or green
Military dot crosshairs
Built-in rangefinder
Removable sunshade
Adjustable eye relief
Flip-open lens cap
High profile scope rings
Shop for the Tiberius Arms Dot Scope.
Upgrades to the T15 marker is, but you can get some excellent outcomes by upgrading the accessories as well.
We list A few of these accessories that could enhance your paintball gun and make you the most successful MilSim player on the field below.
Tiberius T15 Accessories
Sometimes the best and most impactful upgrades are those that go unseen.
The simple springs and gears can create a more efficient and functional marker.
Things like the accessories below.
First Strike T15 Factory Replacement Hopper Adapter
Tired of using your T15 as a mag-fed marker then you should hook a hopper up to that Tiberius Arms First Strike T15.
The folks over at Tiberius Arms have made this super easy with this replacement adapter.
The installation is quick and easy; simply follow the instructions below:
Replacing the cartridge ejection window with the adapter.
Turn the barrel accordingly
Hit the battlefield
Why is the hopper adapter upgrade one of the first things you should execute on your marker?
The easy installation coupled with the fact that this elbow feed is a factory part.
After all who doesn't want more firepower when executing that MilSim raid on your enemies.
See the details about the Tiberius Arms Strike Paintballs here.
First Strike T15 Magazine Performance Spring
A more efficient loading mechanism is yet another T15 upgrade to make.
This efficiency could mean the difference between utter defeat and glorious triumph on the battlefield.
The First Strike T15 Magazine Performance Spring allows more tension to put on the rounds in your magazine.
This means that you will be loading your First Strike paintballs with more efficiency.
And with more efficiency, your MilSim game will be on point.
Learn more about the First Strike T15 Magazine Performance Spring.
Conclusion
You can pick a few of these suggested Tiberius Arms First Strike T15 upgrades, or you can say "to hell with it" and go all in.
In the end, your paintball gun will be your individualized masterpiece.
Having your unique marker is a sign of a battle-tested paintballer.
And there will be no way the rest of your squad will look on you as another newbie.
To be honest, these are a few of the upgrades.
How far you take your customization is entirely up to you and your bank account.
With these few upgrades, you will elevate your battlefield persona to seasoned paintball soldier.
So now the only question is:
Will you be the battlefield hero you know you are or just another newbie playing at being a soldier?
Your choice!