We may earn commissions for purchases made through links on our site. Learn more on our about us page.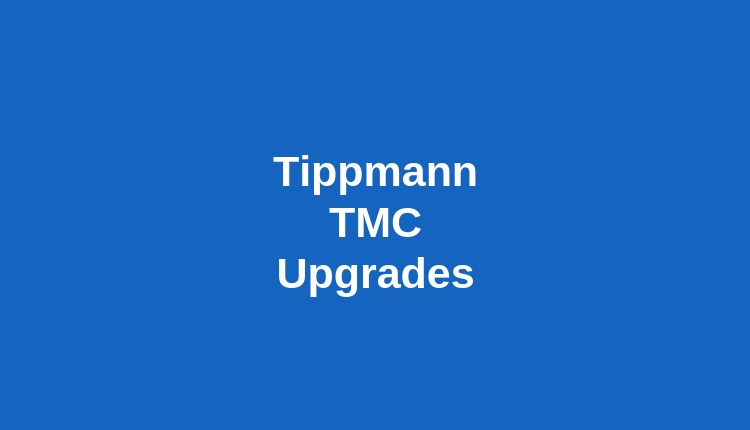 What are the best Tippmann TMC Upgrades?
Tippmann has made its name by making some of the most indestructible and affordable paintball guns and accessories known.
They offer many markers, and each has its own merits.
The TMC paintball gun with its authentic AR styled body remains one of the most popular for mag fed play.
But now that you have that perfect marker, the TMC:
Why not think about those upgrades?
Let's face it; a stock marker is excellent.
And we cover the stock marker in our Tippmann TMC Review.
But if you really want to look like you know what you are doing on that field, then it is all about the upgrades.
So, what kind of upgrades will make you stand out and shine while you wipe the floor with your competitors?
There are several options.
Tippmann TMC Upgrades To Consider
Individualizing your TMC is a breeze.
Part of that individualization comes with the upgrades that you choose to select.
There are:
Mags to consider
Tweaks to the stock
Changes to the barrel
Tactical Vest
Each upgrade you make to your marker changes the efficiency and ease of use.
But how do you get the most out of the upgrades you choose to add to your paintball gun?
Well, you need to select the best ones for your goals.
Maybe you want to camp out & snipe away.
Or you might want to storm the base with markers blazing.
In either case, it may depend on the amount of firepower you have or the speed at which you can get those balls flying through the air.
So, one of the first upgrades you should consider is adding a few of those mags to your kit.
Tippmann TMC Mags
The TMC is a dual loading marker, which means that it not only is mag fed but also utilizes the traditional hopper loading as well.
The benefits of using the mag fed option and upgrading your kit with a few extra magazines are especially useful if you:
Need a sniper style shot
Prefer accuracy over quantity
Want quicker loading capability
Need the additional firepower
The TMC mag upgrade comes in a two pack. These mags:
Have a 20-round capacity
Are spring driven
Contain a mechanical winding knob to load the magazine
Connect 2 Tippmann TMC Mags Together
Upgrading magazines is just the first step.
Now that you can have multiple magazines at your disposal the most significant question remains.
How do you keep them ready for the battles to come?
The Tippmann TMC Magazine 2 Pack With Coupler is the finishing part of the magazine upgrade that you need.
With this accessory, you get the ability to attach two magazines together.
This upgrade allows faster reload that can make the difference between victory and utter defeat.
The Tippmann TMC Mag Coupler:
Has a sturdy polymer build that will keep the wear and tear down to a minimum
Weights light as a feather adding less heft to your gear
Is easy to adjust
Allows for quicker reloads
And ease of accessibility to your extra ammo
Tippmann TMC Vest for Mags
Now you have your extra magazines and the ability to couple them for ease of access and quicker reloading the next upgrade you need to support those is a tactical vest.
There are many choices, and much like your marker, it depends on what you are looking for which one you should choose to upgrade your gear.
The Condor MCR6-498 Tactical & Duty Vest though is the best option when you are looking for:
A durable vest that is comfortable to wear
Accessibility and rapid reload capability
Extra pocket space for other pieces of gear
This vest is the must-have addition that will round out the necessary upgrades any paintballer needs to be ready for battle.
Tippmann TMC Stock
The Tippmann TMC stock that comes with this AR styled paintball gun is already a great way to start yourself out.
The factory stock already comes with the ability to collapse.
You can put it into five separate positions.
But specific models of the TMC comes with an even better stock, the Tippmann TMC Air-Through Stock.
Tippmann TMC Air-Through Stock
The Tippmann TMC Air-Through Stock both comes on certain models of TMC as well as an upgrade.
If your original marker does not come with one, this upgrade is something you may want to consider.
With the Air-Through stock, you still get the collapsible five position ability, but you also get:
The ability for the TMC to go back to a bottom mounted ASA
A stock designed for most tanks and regulators of the 13ci 3000psi capacity
Inserts that change the size of the tanks that the stock can fit
Easy tank installation because of the removable drop-down stock tail
See the Air-Through Stock in Action
Tippmann TMC Barrel
The stock barrel that comes with the Tippmann TMC is a high performance 12" one.
It has a muzzle break, and yet you still might be considering an upgrade.
Upgrading your barrel can lead to:
Improved accuracy by allowing you to tailor the barrel to your specific brand of paintballs
The air efficiency delivers a more precise shot immediately.
More precise shots overall
And a quieter marker
All these benefits can quickly move you out of that newbie phase of your game.
So this Tippmann Sniper Barrel upgrade is one that is highly recommended by paintballers that have been in the game for a while.
But wait a minute.
Can you put an after-market barrel on it?
Though there are not any specific barrel upgrades for the Tippmann TMC upgrading this marker is so easy.
The fact that all the components are the same as the Tippmann 98 is good news.
If the barrel works for that model, then you can use it to upgrade your Tippmann TMC.
So, when you are looking for your next barrel upgrade, then look for any barrel that has the thread for the 98.
Then choose the one that works for your situation.
Summary
Your must-have upgrades to your Tippmann TMC are complete.
Now all you have to do is get out there and take the battlefield.
This time go out there with a little swag.
You know that this go-round no one will be able to call you a newbie.
And that you can hit that battlefield with all the confidence you need to dominate!