If you're looking for Tippmann TCR Upgrades, then you're in the right place.
The Tippmann Tactical Compact Rifle Magfed marker is an excellent addition to your MilSim arsenal.
Even though stock this marker is a magnificent piece there is always room for improvement.
If you haven't picked up one of these, then you can take a look at our Tippmann TCR Review.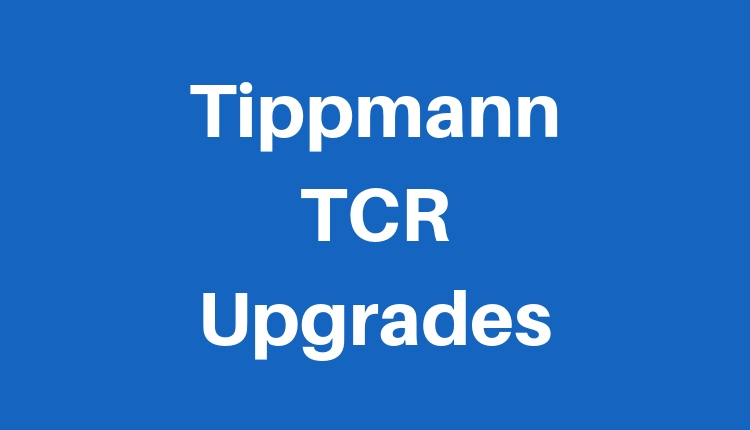 However, the upgrades you add to your marker could be just the thing that sets you apart.
It can separate you from your peers and the waves of newbies joining the battlefield.
So, what are some of those upgrades you should think about for your TCR!
Check out the suggestions below and find the right fit to create the personalized marker of your dreams.
What Are The Best Tippmann TCR Upgrades?
This Magfed marker offers a realistic battlefield simulation.
It also comes stock with the following features:
  It is a Magfed marker
  Easy to change from magazine to hopper
  Top mounted flip sights
  Vertical folding handle
  Foldable stock w/  space to carry extra magazines
  Eleven-inch barrel
  Adaptable to First Strike paintballs
  Two magazines (a 12-ball extended & 7-ball mag)
Even with all those enemy crushing attributes, there is still more you could do with your Tippmann TCR MagFed marker.
Taking it to the next level will be the best way to up your battlefield cred.
Tippmann TCR Barrels To Up Your Game
A nifty upgrade to consider is your marker's barrel.
If you are looking to increase your accuracy and range, this is often the best way to do that.
The Tippmann TCR has the compatibility of most of the TiPX barrels.
The TCR has an A5 barrel thread, and therefore there are many options out there to upgrade your marker.
But let's first talk about what the stock barrel offers.
The stock TCR barrel which is a pretty good start straight out of the box has the following features:
  A5 thread compatible
  11"
  First Strike compatible
Even with that, there are better options that will enhance your markers ability with just one easy upgrade.
The Tippmann TCR's A5 barrel thread gives you a plethora of choices and below are only a few:
Where To Find TCR Barrels for Sale
There are quite a few barrel upgrades for the TCR.
Take your pick depending on which one fits your needs.
LAPCO 8" Bigshot Barrel
The LAPCO 8" Bigshot is one of the most efficient barrels on the market right now.
The TCR barrel also lends a note of credibility to any player that chooses it as one of their upgrades.
The technology that LAPCO uses includes their patented LAPCO Tru-Bore.
This technology is why though it is a little pricier than some of the options it is the one upgrade you might want to spend just a little extra money on instead of skimping.
This TCR barrel upgrade also has the following features and benefits:
Crafted with high-grade aluminum specifically made for LAPCO
The micro-honed finish which means minimal friction and better gas efficiency as well    as enhanced accuracy
Anodized to create an extra hard & durable finish which allows the barrel to be extreme temp resistant
Stiff arbor honed by a professional craftsman
Self-cleaning
Made in the USA
Comes w/ a lifetime warranty
The engraved bore on the barrel can be from .684 – .690
First Strike compatible but not optimized for FS rounds
Tippmann Pathfinder 14" Barrel
This upgrade option is an excellent choice if you are looking to enhance your sniper game because of its ability to increase your shot distance.
The Tippmann Pathfinder barrel has several other benefits like:
  Constructed from lightweight aluminum
  Honed for improved accuracy
  Top line technology that crafts a strong, durable and affordable TCR barrel
  A5 thread compatible
Tippmann TCR Mags To Keep Loaded Up
Now that you have taken a look at the plethora of Tippmann TCR upgrades for barrels you have available to you may be your wheels may be spinning.
Maybe with all that enhanced accuracy and range, you would like to have more ammo availability when storming the field.
The stock Tippmann TCR MagFed marker comes with two different magazines with different capacities.
But maybe that is not enough or what you are looking for in your marker.
So perhaps a magazine upgrade is in the cards.
If so, here are a few suggestions:
Tippmann Tru-Feed 12-ball Extended Magazine
A little more firepower on the field can never hurt.
And so an extended magazine upgrade could be the deciding factor of whether you are the victor or the loser.
The Tippmann Tru-Feed 12-ball Extended Magazine offers many benefits including:
  First Strike compatible
  Lower ergonomic profile for a comfortable grip
  The self-locking quick release system
  Durable composite construction
Tippmann TCR Zetamag
If 12 rounds are just not enough then maybe the Tippmann TCR Zetamag with its 20-round capacity may be more up your alley.
The 3rd generation of the Zetamag delivers enhanced performance and is the most versatile one yet.
This improved performance comes from all the fantastic features.
Features like:
  Twin-channel, Extended magazine
  High capacity up to 20 rounds
  Three magazines in 1
  Includes free dust boot and loading rod w/ each pack
  Reversible magazine
Tippmann TCR Sights For The Perfect Shot
If you cannot shoot in the most precise method possible, then you will waste some of your other Tippmann TCR upgrades.
Longer range shooting & more firing capacity will all be a wash.
Every paintballer that has some seasoning knows that means upgrading your sights.
There are many choices out there for upgrading your Tippmann TCR marker sights.
Here is one that we suggest you take a look at:
Aluminio Reflex Red Dot Sight
This sight uses a lens that acts as a mirror.
The red dot appears after you project the aiming point forward and it reflects into the sight.
A reflex sight like the Aluminio Reflex Red Dot Sight we are taking a look at is generally cheaper than some of the other options.
And some models are battery free.
This model, however, does require a battery and also has the following benefits and features:
  Made of durable aluminum
  Is easy to install
  Anodized black finish for durability
  LED which is easy on the paintballers eyes
  Mounting clamp type is rail compatible with many choices
  Unlimited eye relief for flexible mounting
  24.0 x 34.0 mm objective lens
  On/off switch
  Integrated support for a variety of rails
  Magnification 1x
  Reticle size red dot
  Points 3 MOA
  Lens coating with platinum
Specs:
  Length: 4.6"
  Width: 1.5"
  Height: 2.1"
  Weight: 3.9 oz.
Conclusion
The Tippmann TCR is one of the best mag-fed paintball guns to add to your MilSim kit.
Right out of the box you already are letting people know that you mean business on the battlefield.
To make an even louder statement, the upgrades we talked about are crucial.
These few simple upgrades will elevate your status.
It will show your buddies that you are no longer that newbie they can push around on the battlefield.
With your upgrades for:
enhanced shot range from your new barrel
the increase in firepower capacity with your extended mags
that marksman level accuracy from upgrading those sights
You are separating yourself from the rest of your squad.
So, get that tool kit out and begin those Tippman TCR upgrades and watch the victories pile up on your scorecard.
After all, to the victors go the spoils or at least the battlefield reputation of being a seasoned player.