In this Azodin KPC Review, we'll show you why this marker could be precisely what you need.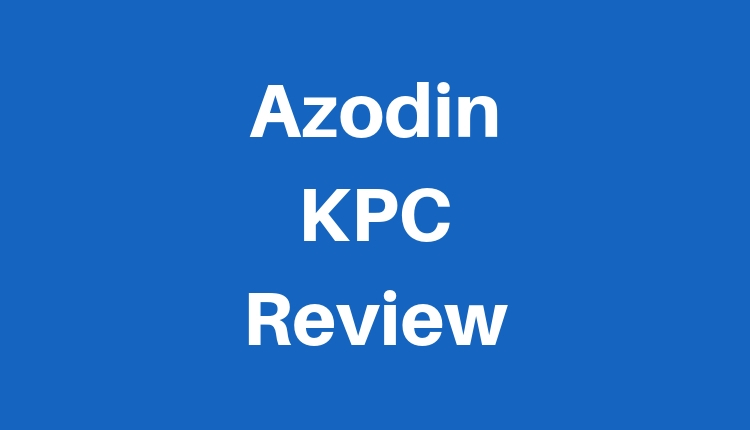 PROS
Price
Lightweight
Ergonomically designed
Trigger sensitivity
CONS
Some reports of locking feed neck
Level of noise
VERDICT

The pros far exceed the few drawbacks.

There are so many choices for a new paintballer to make, but the first and most important is which marker you are going to get.
The plethora of options can be overwhelming for sure.
So how do you find the right marker for you that will not only fit your playing style but build your reputation as a MilSim player that means business.
Most of us will reach for our computers and start typing trying to research everything we can.
And that is understandable.
So, as a way to help you out, let's talk about one of the best pump paintball guns: the Azodin KPC.
Azodin KPC Review
A reboot of the highly successful Kaos pump the KPC combines all the fantastic features of its predecessor.It also has some new additions to make this pump marker even more accurate and efficient.
Azodin KPC Review
Straight out of the box the Azodin KPC comes with these features and benefits:
Body construction using a half-block design
Rod and guide made of stainless steel
Co2 and Compressed Air compatible
Feed neck with a screw lock
Reversible hitman plate
Feather regulator that comes already set
Plaited airline
14-inch one-piece barrel (.
68 bore)
Solo trigger construction
Bolt with rapid disengagement
The folks over at Azodin also saw fit to add into that box a parts kit, multiple Allen wrenches and a bag to protect your barrel.
The first thing we should talk about is careful attention to the crafting process.
Azodin released a new beast onto the battlefield.
They did this by taking into account the changes that have occurred in the paintball world since the inception of the original Kaos pump.
See An Unboxing of the Azodin KPC
The lightweight construction is a vital piece of the game with a final weight that beats its competition by a significant amount.
Though entirely made of metal the use of a Delrin bolt lessens the weight and allows the gun to come in at just about 2 pounds.
Not to mention by using that specialized bolt the drag decreases significantly.
This change helps when firing.
Why?
There is less recoil which translates into more comfortable firing of this pump marker.
Another aspect that allows for a more comfortable carry is the ergonomic rubber grip frame panels.
With the comfort handled the creative team f designers moved on to more improvements on the world-renowned Kaos pump of old.
Functionality wise one of the most effective upgrades has been the addition of a single trigger.
With a single trigger, you have even more ease of use and efficiency.
All of this for the price of this marker is absolutely worth it.
And this means that you start your career on the MilSim battlefield with all the confidence of a seasoned vet.
Azodin KPC Manual
Withal markers, you get access to or even a copy of the owner's manual in the box.
The manual that you get with the Azodin KPC has the standard instructions and an outstanding section on troubleshooting.
Though it does have illustrations in color and detailed parts diagrams is still not as comprehensive as some of its competitor's models.
So, we have talked about the physical body and the specs of those parts, but a marker is not merely the sum of its parts.
The design is just one aspect of the checklist you should be looking at when deciding which marker to buy.
So, let's talk about the actual use of this marker and its durability.
The Azodin KPC's Durability
Paying attention to the finer details, the designers at Azodin have created a tough and long-lasting marker.
The materials used to build this maker are of the highest quality and are the chief reason the Azodin KPC lives such a long and productive life.
There is minimal upkeep helped out by the super detailed maintenance section in the manual.
This paintball gun is a fantastic choice for the new player or someone who doesn't have a lot of time but still wants to rock the battlefield when they hit it.
So now we know that this marker has the potential to last you your lifetime how does is when firing.
Firing
This budget-friendly gun is definitely going to give you the most bang for your buck.
Efficiency still plays a part when talking about the markers firing capability.
And the ability to use either CO2 canisters or compressed air is a great benefit.
That kind of flexibility elevates this marker to the same level of operation as its pricier peers.
Part of being on par with its competition is the functionality of its firing process.
With little to no recoil and the highly sensitive trigger, you get high accuracy and rapid-fire capability.
Pair this with a great stock barrel and that accuracy will be incredible up to distances of 60′.
One of the major cons does fall into the firing category, and that is the amount of sound that radiates from the marker while firing it.
This con though seems to be a personal preference as not everyone feels the same.
After all, it is not the only marker that suffers from a loud shot.
And if this is the only negative to the marker.
With a good pair of noise-canceling headphones, you should be fine.
Azodin KPC for Sale
The Azodin KPC is one of the most budget-friendly markers out there.
In a field where you could very easily spend half a grand just to get started this marker will not send you into a fetal position.
Typically, this marker comes in at prices ranging from $150 – $200.
A price like this means that for that cool half a grand you might spend on one of those other markers you can get the Azodin KPC plus be able to afford some killer upgrades.
Final Words
I guess then the ultimate question that should be on the tip of your tongue is:
Is the Azodin KPC paintball gun any good?
The easiest way to break this down is with a good old-fashioned pro and cons list, so let's do that.
If you are a new player unsure of if you will like this new hobby, then the low budget requirements are enough reason to make this your go-to marker for battlefield success.